1. Introduction
Since 1994, Corsair has been leading the race in high-speed RAM modules performance. We had already tested several Corsair products, and they proved to be reliable, stable, and always delivered what they promised. All memory module manufacturers try to make their modules faster and faster, but Corsair, already having their latency clocks reduced to their lowest limits, decided to follow a different approach.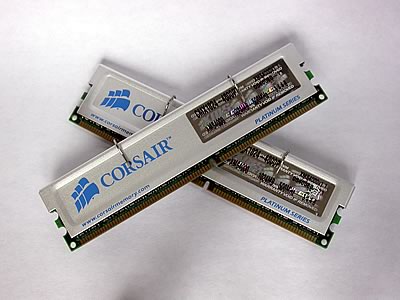 Corsair was kind enough to send us their latest pair of memory modules, designed and tested to work in Dual Channel mode, with a combined size of 2048MB (1024MB per module). These memory modules come from the Corsair "Platinum Series" and use a large heat spreader that lies on the chipsets. The operating clock is set to 500MHz and the modules are tested at JEDEC standard latency settings (3-4-4-8, 1T).
These memory modules use SAMSUNG chipsets that are known for their overclocking potential and reliability. There are 16 chipsets per module (16x64MB).
The modules come in the well known and good looking Corsair thin package.
- Specifications
Below you can see the table with all the specifications for the Corsair TwinX2048-4000PT RAM modules.
| | |
| --- | --- |
| Product Name | TwinX2048 - 4000PT |
| Package | 2048MB kit (2x1024MB) (dual rank) |
| CAS Latency | 3-4-4-8-1T (JEDEC Standard Latency) |
| Test Voltage | 2.8 V |
| Speed | DDR 500 MHz (PC4000) |
| Type | 2x 184-pin DDR SDRAM |
| Error Checking | Non-ECC |
| Registered/Unbuffered | Unbuffered |
| Manufacturer Warranty | lifetime warranty |