6. DVD Recording Tests
- Writing Performance
The maximum supported speed for DVD+R is 16X (6X~16X CAV), 8X P-CAV for DVD-R, 4X CLV for DVD±RW and 2.4X for DVD+R DL media.
By using Nero CD-DVD Speed's "create disc" function, we are able to see the 16X recording technology being used by the DW1625 burner.
8X DVD+R Single Layer writing
The drive completed successful DVD writing at 16X in 6:17mins. It started writing at 5.58X, reached a maximum writing speed of 15.99X and clocked in an average speed of 11.42X.
Below is a table with several 12X and 16X burners, reporting their average writing speeds as measured by Nero CDDVDSpeed, showing that the BenQ DW1625 is the fastest 16X recorder:
Drive

Writing Strategy

Writing Speed

Average
Writing Speed

BenQ DW1625

CAV

16X

11.42X

Plextor PX-712A

P-CAV

12X

10.62X

ASUS DRW-1604P

Z-CLV

16X

10.11X

Pioneer DVR-108A

Z-CLV

16X

10.03X

LG GSA-4120B

Z-CLV

12X

9.87X
- Supported media list/Burning Tests
We burned 4315MB of data on various DVD±R, DVD±RW media. We used the maximum allowed writing speed for each disc.
- Writing Time Results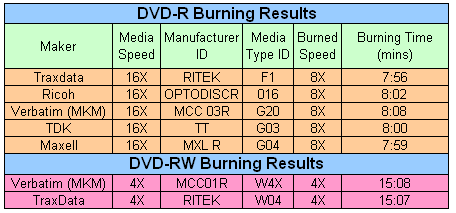 - Comparison with other drives
With DVD+R and -R media, the BenQ burner was very close to being the fastest, only 1 second behind the LG GSA-4160B in both cases.
With DVD+RW/-RW media, the BenQ burner was the slowest among the three where with DVD-RW media, the difference was around 40 secs.
- DVD Overburning Test
Overburning is not supported with DVD+R media.
- DVD+MRW Tests
The drive doesn't support the Mount Rainier feature.