be quiet! Silent Wings Pro 4
3. Conclusion
be quiet! is very proud of their new Silent Wings (& Pro) 4 series, since with the new series they are releasing almost eight (8) different variations and two (2) sizes for all people who are looking to upgrade or simply buy a new 120mm or 140mm with very good design and performance.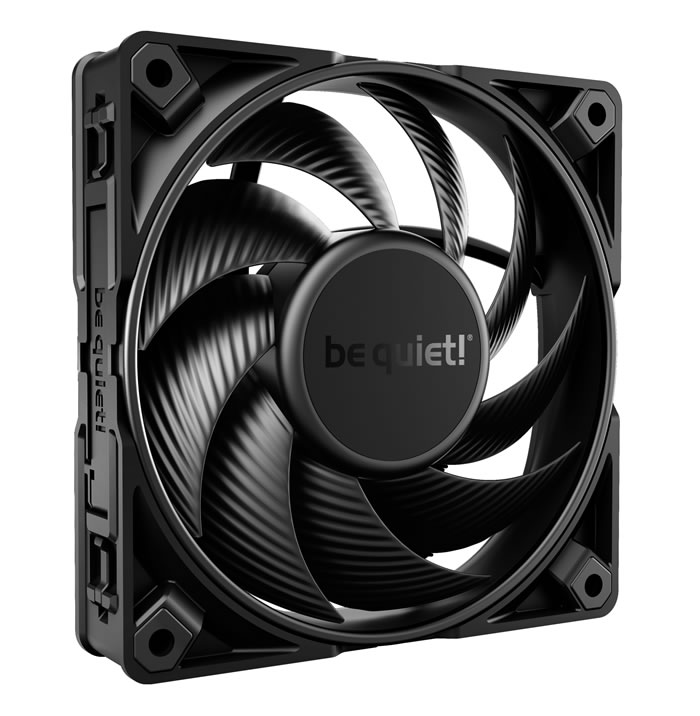 The new series include a different blade design either for the 120mm (9 blades) or the 140mm (7 blades) that promise improved performance with slight reduction at noise levels at all speeds. The included 6-pole fan motor and fluid-dynamic bearing also promise good performance and durability up to 300.000h! very impressive stats if you ask me. As we mentioned earlier there is the Pro and the non Pro version for the Silent Wings 4 and the following table illustrates their differences, the Pro only comes with PWM function and onboard speed switch, which may found useful for some users. Lastly the Pro has more mounting options (mainly for radiators), while the sleeved fan cable (long up to 54cm) at the Pro version has a high-grade sleeve.
Passing to the performance tests, we changed two fans of the be quiet! Silent Base 802 case from the stock Silent Wings 3 to the Silent Wings Pro 4 and we found that the overall cooling performance increase since we had lower internal temperatures (cpu coolers Dark Rock Pro 4 - AMD 5600X - full load) from average 56.42 Celsius down to 55.05 Celsius, resulting minus 1.37 Celsius, which noise levels were almost equal (Silent Wings Pro 445.30db vs Silent Wings 3 45.25dB). Of course users can further tune the Silent Wings Pro 4 either with the included speed switch or via PWM function of BIOS/Motherboard.
Concluding this review, we found the new Silent Wings Pro 4 series to be an improvement to the Silent Wings 3 series as be quiet! promised. We didn't had, yet, the chance to test the "non Pro" Silent Wings 4 series, however we are sure, performance would be also better than the previous Silent Wings 3 series. The retail price for the 140mm PWM Pro series is around $31.90 / €32.90 / £29.99 and can be found now at all major retail/online stores. Alternative users can also look the non-Pro Silent Wings 4 series which cost almost the same as the previous Silent Wings 3 series :-)
(+) Positive
Optimized fan blades for the highest performance on radiators and heat sinks
Small tip clearance and a fan frame with funnel-shaped air outlets for extremely high air pressure
Anti-vibration mounting with push pins for installation as a case fan
A 3rd mounting option for the use on radiators for Silent Wings Pro 4 with radiator cornerss
6-pole fan motor and fluid-dynamic bearing for less vibration and very smooth operations
PWM high-speed models offer very silent operation even at high rpm and PWM fan can be controlled through the motherboard
Speed switch of Silent Wings Pro 4 allows changing maximum PWM speed between medium-speed, high-speed and ultra-high-speed (up to 3000 rpm)
Improved performance vs Silent Wings 3 140mm PWM with similiar produced noise
Super-long lifespan of 300,000h for the fan motor
5-year manufacturer warranty
(-) Negative
The Silent Wings Pro 4 140mm PWM price is much higher vs the previous Silent Wings 3 140mm PWM (33 Euro vs 20 Euro) due to more mounting options and included speed switch