be quiet! Silent Wings Pro 4
2. Retail Package
For our tests we got two 140mm PWM Silent Wings Pro 4 fans. There is also a 120mm PWM variation in case you need it. According to the press release, the 140mm PWM Silent Wings Pro 4 costs $31.90 / €32.90 / £29.99. The retail package is complete and rather heavy for fan, since it includes many mounting options and all needed parts. After unpacking you will find, the 140mm Silent Wings Pro 4 fan, four radiator optimized fan corners, four rubber and four hard plastic mountings, four push-pins, four fan screws and a printed manual.
The 140mm PWM Silent Wings Pro 4 fan, comes at a standard 140x140x25mm size, which is industry standard after all. The product has very good appearance and design and you can see the change in the rotating blades, which have been improved for higher performance and higher static pressure. At the technical side, be quiet! included a smooth 6-pole fan motor with fluid-dynamic bearings that are state-of-the-art technology. There are seven (7) blades for the 140mm PWM model.
All Silent Wings Pro 4 models have PWM function (4-pin power) and we liked the fact that the power plug is bigger than usual to help us installing on those tight PC case corners
Silent Wings Pro 4 series have three mounting options in the scope of delivery. The anti-vibration mounting reduces noise generating vibrations to a minimum and are pre-determined for the use in PC cases. For radiators and heat sinks, the plastic mounting is the first choice. The radiator corners, exclusive to Silent Wings Pro 4, are specially designed for radiators. All fan corners are swappable without additional tools, making Silent Wings 4 fans even more variable.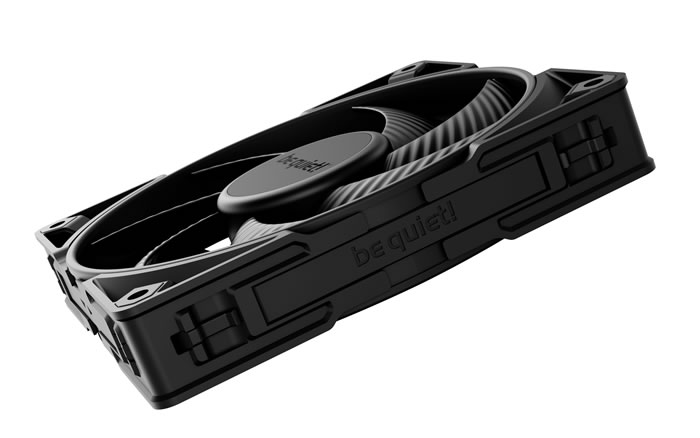 At the back of the fan you will find a speed switch that changed between medium, high-speed and ultra-high-speed of maximum RPM levels quick and easy. Of course due to its PWM functions (4-pins power), this setting can also be tuned via the BIOS/Windows software of your motherboard. Higher speeds equal to higher performance and higher noise, with the 140mm PWM model you can set your own preferences for efficient cooling performance. The included 4-pin sleeved power cable is around 54cm long, meaning will fit even in full tower cases.
The PWM motor control has improved fan magnets. They reduce the noise so the predecessor's level can be reached despite a higher performance. The funnel-shaped air inlet of the predecessor maximized the airflow. Silent Wings 4, however, has the funnel shape now on the air outlets, which makes for higher air pressure and underlines the performant design of the fan.