be quiet! Pure Rock LP CPU cooler
4. Conclusion
The be quiet! Pure Rock LP is a new proposal for users who wish to get increased performance at a very small package with up to 100TDP-rated processors. The product dimensions are really small and its height merely passes 45mm, which is a good thing for ultra-compact mini-ITX builds or in general small-factor PCs. There is support for AM4/AM5 processors as well as for Intel (1700 / 1200 / 1150 / 1151 / 1155) sockets, so we think it's a good balance since most "older" sockets are hard to find nowadays anyway.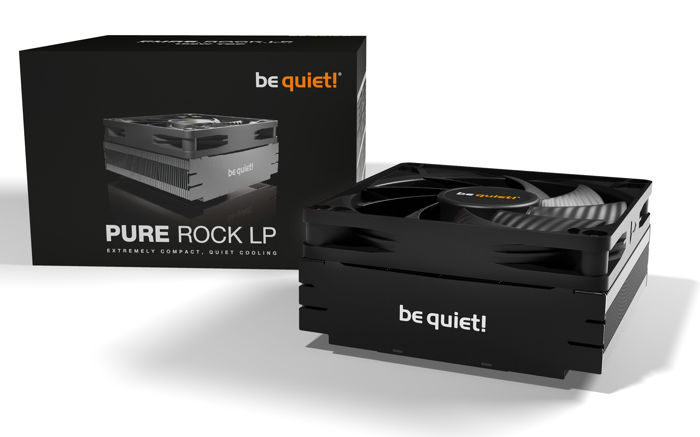 Passing to the retail package, you won't find much here, only the basic stuff, after all, you don't need much. The thermal paste is already pre-applied. The mounting mechanism is "simple" provided that you first took a look at the included printed manual. In our case, we had to completely remove the existing CPU cooler+mount mechanism, since for the AM4 socket, the product uses the backplate to secure the cooler due to its small dimensions this little gem will fit even in small cases.
Overall we are happy to suggest this product for ultra-compact mini-ITX builds for processors up to 100W TDP, which will keep temperatures at acceptable levels. The product costs $49.90 / €49.90 / £46.99 MSRP had 3 years warranty and is already being sold at the retail market.
The Good:
+ Aims for ultra-compact mini-ITX builds
+ Complete retail package with pre-appled thermal grease
+ Supports both AMD/Intel Sockets and up to 100watt TDP processors
+ Very good performance compared with AMD stock cooler
+ Good noise level
+ Relatively easy installation process
+ 3 years of warranty
+Retail price ($49.90 / €49.90 / £46.99 MSRP)
Neutral:
- No serious overclocking is possible at least with our AMD 5600X
The bad
-