BDA: Blu-ray Disc Re-writes Record Books in U.S.
Blu-ray Disc is proving to be the most popular and fastest establishing platform ever in the history of the U.S. entertainment industry. This was one of the main messages presented by the Blu-ray Disc Association (BDA) at a packed press conference on the opening day of the 2009 International Consumer Electronics Show in Las Vegas yesterday. Since Blu-ray Disc's inception in June 2006, some 10.7 million Blu-ray capable players have been shipped in the U.S. (source: DisplaySearch). By comparison, 5.4 million DVD players had been shipped three years into its launch (source: CEA Market Research).
"Already, in just our third year, Blu-ray has achieved more than seven per cent market penetration here in the U.S.," commented Andy Parsons, Chairman of the BDA U.S. Promotions Committee.
"This compares with just over four per cent for DVD, less than two per cent for CD and less than one per cent for color television itself at comparable stages of their evolution. These are really significant figures and illustrate the ability Blu-ray possesses to revolutionize the home entertainment industry."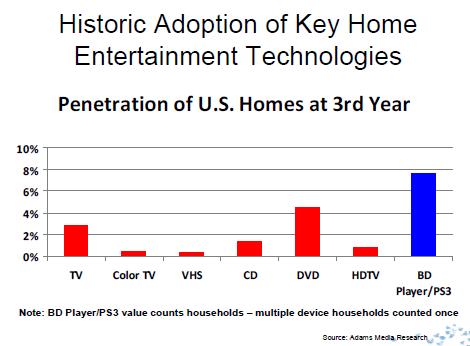 This exponential growth in hardware sales is supported by very strong sales results in the software sector. Parsons announced to the news conference that nearly 1,100 Blu-ray movie titles are now available. With the release of Dark Knight by Warner Home Video the BD format has its first title to surpass one million sales.
In the U.S. the first two million disc sales month was achieved last October. This was immediately followed by more than three million BD movie sales in November and more than eight million sales in December. Since Blu-ray?s inception more than 30 million Blu-ray movie discs have been sold. In 2008, 24.09 million discs were sold (source: The Redhill Group) representing a more than fourfold increase on the previous year.
Parsons pointed out to the audience of journalists that whilst these figures are impressive, they represent just the start of a revolution that will transform living rooms across the U.S., and indeed the world.
There are currently more than 75 BD-Live movie titles available in the U.S. and many more are in the pipeline. There are nine BD-Live capable player models on the market today and a further five new players have been announced at CES.
This means that when PLAYSTATION 3 is taken into account more than 75 per cent of all Blu-ray players sold in the U.S. are BD-Live capable. Blu-ray Disc is a format that is in the early days of its evolution and numerous companies and organisations are working with the technology to enhance the consumer entertainment experience. Andy Parsons identified Digital Copy and 3D technologies as good illustrations of where this is happening.
"We are on a growth path that will see Blu-ray enter mainstream entertainment markets in the U.S. during 2009," concluded Andy Parsons. "Within the BDA we are working hard to make this technology available to the broadest community of entertainment enthusiasts. We look forward to what will be a tremendously exciting and perhaps unprecedented period ahead of us."