Asus Unveils New Vivo Tablets And Zenbooks at IFA
Asus will be showcasing the Vivo Tab and Vivo Tab RT tablets along with new Zenbook ultrabooks at IFA in Germany. The Vivo Tab (x86) and Vivo Tab (ARM) are not very different than the Tablet 810 and Tablet 600 hybrids we saw months ago at Computex. Both devices feature a dual-purpose design, offering a removable tablet-style display and keyboard dock.
The (x86) Vivo Tab is powered by an Intel Atom processor paired with 2 GB of RAM and 64 GB of storage. The mobile dock offers a full QWERTY keyboard, track pad, dual USB ports, and a second battery for extended runtime. The model has a 11.6-inch display, which supports resolutions up to 1366 x 768 and supports 10-point multitouch. The Vivo Tab measures 8.7 mm thick and weighs 675 g. It boasts an eight-megapixel rear camera with autofocus and LED flash, as well as a two-megapixel front camera, a Wacom digitizer and a stylus. The tablet is also equipped with integrated NFC technology.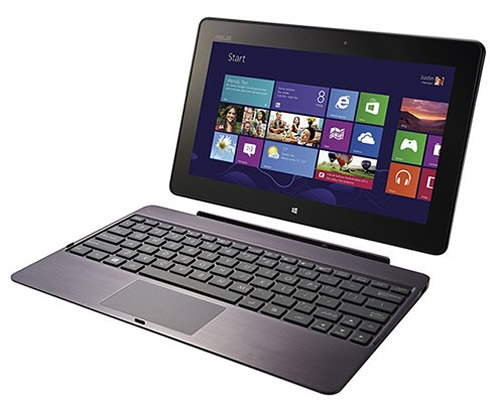 The (ARM) Vivo Tab RT is 8.3 mm thick and weighs 520 g. It pairs an Nvidia Tegra 3 quad-core processor with 2 GB of RAM and 32 GB of storage. It comes with a 10.1-inch display capable of rendering resolutions up to 1366 x 768. The RT is also equipped with an integrated NFC chip, along with a QWERTY keyboard mobile dock that features a track pad, USB port and additional battery.
Asus did not announce a price or launch date for either tablets.
Regarding the Zenbooks, Asus will showcase the U500VZ and the Zenbook Prime UX21A Touch models.
The Zenbook U500VZ is 0.78" thick and fills Intel's SSD requirement with dual-drive configurations offering either 128GB of flash alongside a 500GB mechanical drive or dual SSDs with up to 512GB in capacity. It is powered by a quad-core Ivy Bridge CPU.
The U500VZ also comes with a 15" IPS panel with a 1920x1080 resolution. A discrete GeForce GT 650M GPU is driving the display.
The second Zenbook looks more like an ultrabook. The Zenbook Prime UX21A Touch is a 11.6-incher with a 1080p screen and multitouch support. The ultrabook has no discrete graphics and graphics are only powered by Ivy's integrated GPU. Asus says the UX21
A's power-saving tech extends battery life by 25% and allows the system to last up to two weeks on standby.