Asus Showcases PC-gaming Products At Computex
Asus announced a slew of PC gaming-oriented products at Computex, including new Republic of Gamers desktop PCs, a laptop, three motherboards, a video card, and a new display. Below you see the new ROG G20 Gaming Desktop - a small-form-factor PC with an intriguing 12.5-liter case design. Asus says that a hidden airflow tunnel and an external power supply will render the system nearly silent, even when outfitted with an Intel Core i7 CPU and an Nvidia GeForce GTX 780 discrete graphics processor. A customizable lighting system will deliver up to 8 million color combinations in three zones in and around the chassis. In Eco Energy Mode, the G20 requires only 20W, according to Asus. It also features the ASUS-exclusive Aegis application for monitoring system performance through a user interface.
The system will sell for between $800 and $1700 when it ships in the U.S. in the third quarter.
The ROG GR8 Gaming Desktop will ship with Windows 8.1, but it will also be compatible with Valve's SteamOS and Steam Controller. Asus also plans to launch a Steam specific model once Valve is ready. The ROG GR8 will be available with Intel Core i7 processors and Nvidia GeForce GTX 750Ti. The box will have a side panel that allows for quick memory upgrades.
The ROG GR8 will also support the Miracast standard to stream video to an HDTV. Its video connections include DisplayPort and HDMI, and it will also have four USB 3.0 ports, plus two USB 2.0 ports. In addition to gigabit ethernet, the ROG GR8 will support 802.11ac Wi-Fi. It will be released in North America in the third quarter.
Asus also announced a new 15.6-inch gaming notebook with a 4K display (3840x2160 pixels). Just 19mm thick and 2.2kg in weight, the GX500 will be based on the latest Intel Core i7 processor according to Asus, along with an Nvidia GeForce GTX 860M graphics processor.
It is able to deliver 100 percent of the NTSC gamut (the sRGB standard covers about 72 percent of the NTSC gamut). Asus has revealed that the laptop will be available in North America sometime in the third quarter.
The new Asus ROG Swift PG278Q display supports Nvidia's G-Sync technology. It features a small circuit board that synchronizes the monitor's refresh rate to the video card's rendering output, eliminating visual artifacts such as stuttering. The 27-inch panel boasts a native resolution of 2560x1440 pixels and refresh rates of 60-, 120-, or 144Hz. It must be paired with an Nvidia video card to utilize G-Sync.
Asus also announced a new limited-edition water-cooled video card, featuring two of AMD's Radeon Hawaii XT-class graphics processors (R9 295X) linked to 8GB of GDDR5 memory. Dubbed the ROG Ares III, Asus says it will produce just 500 of these cards. The ROG Ares III features two of AMD GPUs, 8GB of GDDR5 memory, and a custom liquid-cooling system.
The company also announced a new AMD motherboard. The ROG Crossblade Ranger includes the SupremeFX 2014 audio technology and GameFirst III network-optimization software and it is compatible with AMD CPUs that fit in FM2+ sockets. The Crossblade Ranger takes a lot of cues from the Maximus VII range, especially in terms of color scheme, software, audio features and Ethernet. It packs 8 SATA ports, Keybot, Slow Mode, LN2 Mode, voltage check points, and even an Intel NIC. 
Finally, Asus unveiled two new motherboards featuring Intel's Z97 chipset. The ROG Maximus VII Formula is an ATX motherboard, while the ROG Maximus VII Impact board is based on the smaller mini-ITX standard. Both models will come with 802.11ac Wi-Fi/Bluetooth 4.0 modules.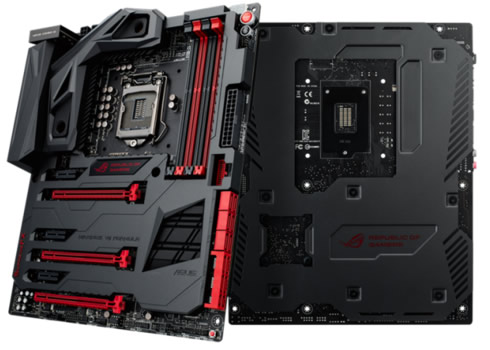 The Formula use the full cover body plate similar to the previous version,.  The rear of the motherboard has a full cover body plate affixed at nine points around the motherboard. It uses dual SATAe (one from the chipset, one from an ASMedia controller) as well as ASUS' mPCIe Combo III on the rear IO to give access to an mPCIe slot and an M.2 (x2 and SATA) slot.   Audio is from the SupremeFX solution, which uses SenseAmp to automatically adjust for headphones up to 600 ohms.
The Maximus VII Impact builds on the VI Impact ut comes with an updated power delivery daughterboard (Impact Power II), an updated audio daughterboard (SupremeFX Impact II), and mPCIe Combo IV with 802.11ac + Bluetooth 4.0. The new features include M.2 x4 as part of mPCIe Combo IV.  Another new feature is the Impact CoolHub, a card connected to the motherboard with two 4-pin fan headers as well as an LN2 header for extreme overclockers. 
ASUS is also showcasing at Computex two LGA1150 motherboards featuring USB 3.1 support courtesy of an ASMedia controller.
The USB 3.1 ports on ASUS' boards - codenamed Quicksilver (ATX) and Shadowcat (mini ITX), offer maximum transfer rates of 10 Gbps and up to 100W for connected devices. Shadowcat also packs two DDR3 memory slots, four SATA ports, one PCI-Express x16 slot, Gigabit Ethernet, 5.1 channel audio, and D-Sub, DVI, HDMI and DisplayPort outputs.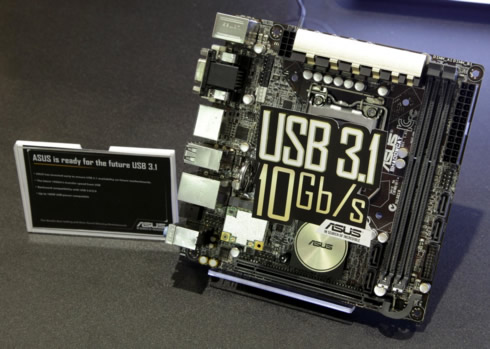 ASMedia USB 3.1 chipsets are available later this year.
Quicksilver also features four memory slots, one SATA Express, one M.2 and six SATA 6.0 Gbps ports, three PCI-Express x16 slots, dual Gigabit Ethernet, 7.1 channel Crystal Sound 2 audio, 802.1ac WiFi, plus DisplayPort and HDMI connectors.