Asus SaberTooth P67 B3 review
2. A closer look
The Asus Sabertooth retails for €170~190 (including VAT), which is a very good price for a ne motherboard packed with so many features.
The retail package should be e familiar to anyone who has seen an Asus X58 motherboard. It really very classy with the gun-metal cover and gold lettering. Basic information such as the model and new P67 revision B3 chipset onboard is also provided:
Into the box there are the following accessories:
- User's manual
- 2 x SATA 3.0Gb/s cables
- 2 x SATA 6.0Gb/s cables
- 1 x Q-Shield
- 1 x Q-Connecor (2 in 1)
- 1 x ASUS SLI bridge cable
- 1 x TUF Certification card
- 1 x TUF 5 Year Warranty manual (by region)
- 4 x screws for Assistant Fan
- 1x CD with drivers
The Sabertooth P67 includes the basic accessories. Although there is an SLI bridge, there is not any CrossFireX bridge - possibly because this generally comes with an AMD video card. In addition, although the motherboard has a spot to attach a 50mm fan, ASUS doesn't include this fan into the bundle although there are the screws necessary to hold one in place. One other item that seems to be missing from the accessory bundle is a USB 3.0 bracket.
Looking at the motherboard, you'll immediately notice the TUF Thermal Armor, which according to Asus, improves cool air overall circulation and therefore overall temperatures. The TUF thermal armor is made out of hard plastic. The only openings are at the CPU socket, memory slots, chipset cooler, PCI/PCIE slots, and connectors such as power and SATA.We are not sure whether large CPU coolers would easily fit into the uncovered CPU area with the TUF Thermal Armor installed. In case you are facing such an issue, you may completely remove the TUF Thermal Armor. It is mounted on the motherboard with screws accessible at the opposite side of it.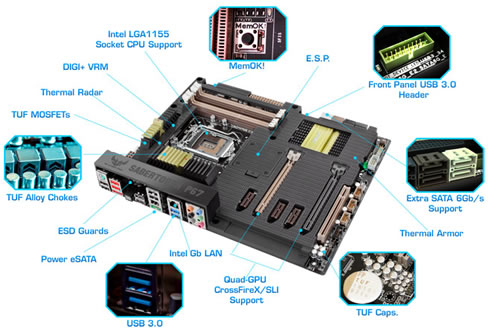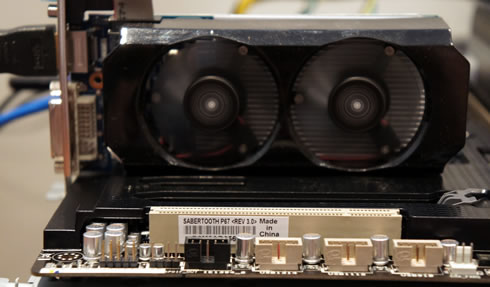 The components surrounding the CPU socket are covered on the ASUS Sabertooth P67 by aluminum heatsinks. Under the heatsinks, the Sabertooth P67 settles for eight (vCore) DIGI+ VRM phases plus two (vDRAM/QPI). ASUS uses solid state capacitors with a solid organic polymer.
A heatsink covers the chokes and MOSFETS and the heatsink on the right sits behind the chokes and covers the DIGI+ VRM area. The two heatsinks are connected via heatpipe. Below you see the military-grade mosfets with the 8+2 phase power design:
The Sabertooth supports adding an extra 50x50mm fan in order to keep temperature even lower, but it's too bad no fan is included to the package.for even lower temperatures, too bad its not included.
Moving down to the bottom right corner we come to the four memory slots, which support of up to 2133MHz DDR3 with XMP profile. There is also the MemOK! Button, which allows you to test the installed memory and in case of excessive memory OC or wrong settings, you may easily reset it for an easy boot process.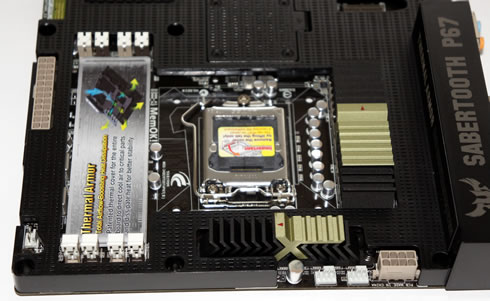 Moving left we pass the 24 pin power connector and come to a USB 3.0 header. If you have a case that has USB 3.0 support for the front panel you can use this connector or you can purchase a panel to fit in the rear of the case. ASUS did not provide this with the Sabertooth. The NEC D720200F1 chip nearby is the USB 3.0 extended host controller for the USB 3.0 header.
Round the back we have all the connections we'd expect with a dual-purpose PS2 port, USB headers, firewire, e-SATA:
- 1 x PS/2 Keyboard/Mouse Combo port
- 1 x External SATA 3Gb/s port (red)
- 1 x Power eSATA 3Gb/s port (green)
- 1 x IEEE 1394a
- 1 x LAN(RJ45) port(s)
- 2 x USB 3.0/2.0 ports (blue)
- 8 x USB 2.0/1.1 ports
- 1 x S/PDIF Out (Optical)
- 8 -Channel Audio I/O
The Sabertooth P67 supports 2 x PCIe 2.0 x16 (single at x16 or dual at x8/x8 mode), 3 x PCIe 2.0 x1 and 1x PCI port. Although these ports are closely positioned to each other, but we don't see any problems with either SLI or Crossfire setups: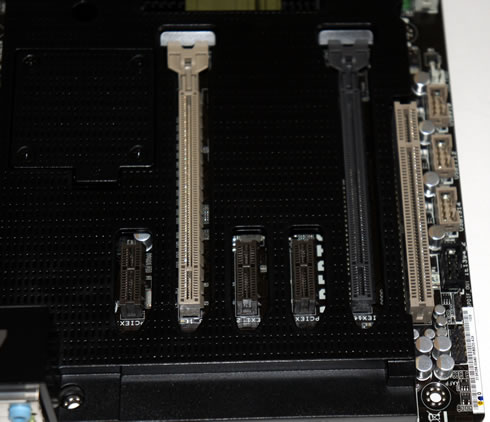 There also many SATA ports driven by the the Intel P67 Express Chipset (2 xSATA 6.0 Gb/s ports (brown), 4 xSATA 3Gb/s ports (black) and the Marvell PCIe SATA 6Gb/s controller (2 xSATA 6Gb/s ports (gray). There is also an JMicron JMB362 SATA controller that powers the Power eSATA 3Gb/s port (green) and the External SATA 3Gb/s port (red):
In addition there are several other internal I/O ports such as an connectors and USB2.0/3.0 headers:
- 1 x USB 3.0/2.0 connector(s) supports additional 2 USB ports (19-pin; moss green)
- 3 x USB 2.0/1.1 connector(s) support additional 6 USB ports
- 1 x MemOK! button
- 4 x SATA 6.0Gb/s connectors ( 2 x gray; 2 x brown)
- 4 x SATA 3.0Gb/s (black)
- 1 x IEEE 1394a connector
- 1 x CPU Fan connector(s) (4-pin)
- 2 x Chassis Fan connector(s) (1 x 4-pin; 1 x 3-pin)
- 1 x Power Fan connector(s) (3-pin)
- 1 x Assistant Fan connector (3-pin)
- 1 x S/PDIF Out connector
- 24-pin EATX Power connector
- 8-pin EATX 12V Power connector
- 1 x Front panel audio connector
- 1 x COM connector
- 1 x System Panel (Q-Connector)
- 1 x Clear CMOS jumper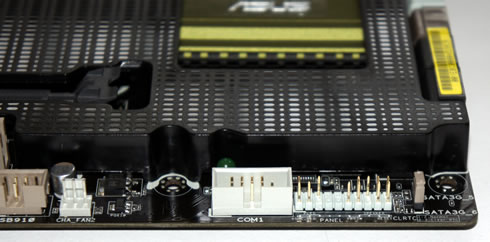 What we missed here were the power and reset switch on the board, found on other Asus boards.