15. Overclocking
No matter your graphics card, there comes a time in your computer's life when it can no longer cope with the latest technology the ever so popular games use. This is one of the main reasons for overclocking your graphics card. Gamers are always looking forward for a little extra boost in terms of framerate. Even though most of the times the boost is far from noticeable, overclocking remains the last resort when you can't afford to buy a brand new VGA card.
Increasing the memory clock too much,
produces the so-called "artifacts".
The stock clock speeds for the ASUS N7800GTX TOP are 486MHz for the GPU and 1.35GHz for the memory modules. Notice that the default clock speeds for NVidia's 7800GTX chipset are 430MHz and 1.2GHz for for the GPU and the memory modules respectively. So knowing that the ASUS N7800GTX TOP is already overclocked, we shouldn't expect a lot.
With the participation of RivaTuner, we managed to set the Core clock to 500MHz and the Memory clock frequency to 1.37GHz. Theoretically, this is not a great difference, but still, the already overclocked ASUS N7800GTX TOP has gone even higher. It seems that ASUS has chosen not to reach the limits of the card opting for higher stability and reliability.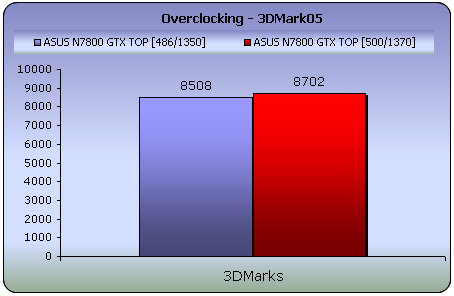 With the extra overclocking, the difference in 3DMark05 and 03 while not negligible, the actual performance in games is almost at the same framerates at all resolutions. We believe there's no reason to further overclock the ASUS N7800GTX TOP, it is already very good.