1. Introduction
Before a couple of months, CDRinfo released a review about the capabilities of the ASUS 6800 GT VGA card. Since NVidia has already released the new 7800 chipset, ASUS introduces its flagship VGA adaptor, the N7800 GTX TOP edition. This is an overclocked GeForce 7800 GTX, with a very effective cooling system. ASUS is well known for its reliable and high quality products, and with this release aims for top performance.
The ASUS EN7800GTX TOP Limited Edition features the state-of-the-art technology, performance and reliability. Equipped with an over-clocked GeForce™ 7800 GTX GPU and fastest –1.6ns DDR3, users can fully exploit innovative graphics technologies such as NVIDIA® CineFX™ 4.0 engine, nView™, UltraShadow™ II technologies from NVIDIA™ and raise today's hottest new games to a whole new level.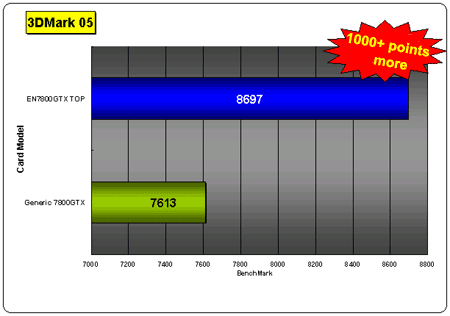 According to ASUS, the GeForce™ 7800 GTX includes an on-chip video processor to meet today's demanding top notch DVD playback, television encoding and decoding, and support for high-definition television formats. Not only does the EN7800GTX TOP Limited Edition come with the world's most powerful graphics processor in its class, it also features the latest ASUS-exclusive ASUS Splendid Video Enhancing Technology, ASUS GameFace™ Messenger , ASUS GameLiveShow, ASUS GameReplay, ASUS Video Security Online ™, ASUS OSD technologies to fully take advantage of EN7800GTX TOP's power.
Chipset Features
Powered by the world's most powerful GPU
- overclocked nVidia® GeForce ™ 7800 GTX
NVIDIA SLI™ Technology
Delivers up to 2x the performance of a single GPU configuration for unparalleled gaming experiences by allowing two graphics cards to run in parallel. The must-have feature for performance PCI Express graphics, SLI dramatically scales performance on over 60 top PC games.
NVIDIA UltraShadow™ II technology
Enhances the performance of bleeding-edge games
NVIDIA® CineFX™ 4.0 engine
Delivers advanced visual effects at unimaginable speeds. Full support for Microsoft® DirectX® 9.0 Shader Model 3.0 enables stunning and complex special effects. Next-generation shader architecture with new texture unit design streamlines texture processing for faster and smoother gameplay.
NVIDIA® Intellisample™ 4.0 technology (HCT)
The industry's fastest antialiasing delivers ultrarealistic visuals, with no jagged edges, at lightning-fast speeds. Visual quality is taken to new heights through a new rotated grid sampling pattern, advanced 128 Tap sample coverage, 16x anisotropic filtering, and support for transparent supersampling and multisampling.
NVIDIA® nView™ multi-display technology
Provides the ultimate in viewing flexibility and control for multiple monitors
Digital Vibrance Control 3.0 Technology
Allows the user to adjust color controls digitally to compensate for the lighting conditions of their workspace, in order to achieve accurate, bright colors in all conditions.
On-Chip Video Processor
Delivers unmatched video performance, features, and quality
PureVideo
combination of high-definition video processor and video decode software delivers unprecedented HD video, stunning picture clarity, smooth video, accurate color, and precise image scaling for all video content to turn your PC into a high-end home theater.
Microsoft ® DirectX 9, Shader Model 3.0 and OpenGL 2.0 support
Graphics Engine

GeForce™ 7800 GTX

Video Memory

256 MB DDR3 –1.6

Engine Clock

486 MHz

Memory Clock

1.35 GHz (675 MHz DDR3)

RAMDAC

400MHz

Bus Standard

PCI-E

Memory Interface

256-bit

With DVI-VGA adaptors

VGA Output

TV Output

Video-in & Video-out (VIVO) with HDTV-out support

DVI Output

Dual DVI-I

2nd VGA Output

Yes

Adaptor/Cable bundled

VIVO cable, DVI adaptors, power cord

Software Bundled

Project Snow Blind
Xpand Rally
Second Sight
Power Drome
Chaos League
ASUS DVD
Media & Show
Power Director 3
ASUS Driver & Utilities
Leather CD case
The default clocks for a 7800GTX is 430MHz for the GPU and 1.2GHz for the memories. The ASUS N7800GTX TOP, as you can see from the graph above, is overclocked at 486MHz and 1.35GHz for the GPU and memories respectively.
- Packaging/Bundle
Impressive and stylish, as always, the retail box includes the ASUS Driver & Utilities disc as well as the following:
| | |
| --- | --- |
| Project Snow Blind | Second Sight |
| Xpand Rally | Power Drome |
| Chaos League | ASUS DVD |
| Media & Show | Power Director 3 |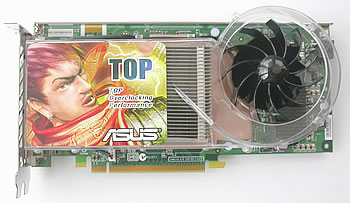 A leather CD case is also included in the retail package.
The multilanguage coloured manual is quite helpful, with step by step guide on how to install the adaptor and the drivers.
There are also some more accessories included in the retail package :
- VIVO cable
- DVI-CRT converter
- Power cord