ASUS Extreme N7800GT Dual
1. Introduction
Last year, during CeBit 2005, we showed some very interesting devices from ASUS, especially motherboards and VGA cards. Some of these products were manufactured only for experimental purposes and were not to be released. We also didn't expect that the new Dual GPU graphics cards would reach the market, since the expected price was going to be high and the performance probably not as good as expected. But ASUS has proved us wrong.
Last week, we received a very nice present for the new year. An ASUS Extreme N7800GT Dual. This is one of the best cards ASUS ever created. In fact, this is the most advanced card at this time, since it uses two GPU cores on the same PCB. This poses many questions, such as "will the performance be truly doubled?", or "will it be cool and quiet, or noisy and hot?" and "is this card compatible with all mainboards?". All these questions will be answered in this review.
We should note that only 2000 of these cards will be manufactured, and the number of each card is stamped on the heatsink, as you will see in the following pages.
It should be obvious from the foregoing, that this is a card that uses two 7800GT GPUs. Unfortunately, there is no card that uses two 7800GTX GPUs, and because of technical issues, it's going to take some time to before we will see a 7800GTX Dual card up and working. But back to our Dual 7800GT. It will come equipped with 512MB DDR3 memory, which is more than enough.
- Packaging/Bundle
The ASUS N7800GT Dual card's retail box is really huge, as is the case with most ASUS VGA cards, with a lot of logos on the front indicating the awards ASUS cards have claimed in the past.
The card needs a lot of power to work and ASUS includes an AC adapter to power up the card through an external power source. You will see in the next page, where the adapter should be plugged in. This accessory is optional and you can use any third party adapter, as long as it has the same specifications.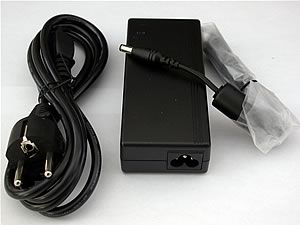 You will also find the usual stuff in the box, DVI to VGA adapters, power adapter cord, VIVO cable, and a detachable D-sub cable.
Although the sample that we received did not have the award winning Call Of Duty 2 game in the box, this game is offered in most regions as of December 2005. A list of the bundled software is given below:
Call of Duty 2 (in selected regions)
Project Snow Blind
Xpand Rally
Virtual Drive
ASUS DVD
Media & Show
Power Director 3
ASUS Driver & Utilities
Leather CD case
There is also a DUAL-GPU card that looks like an SLI selector card. This card is installed on the mainboard, and "tricks" the mainboard into working in SLI mode, but with only one graphics card installed.