13. Overclocking
No matter your graphics card, there comes a time in your computer's life when it can no longer cope with the latest technological demands the ever so popular games impose. This is one of the main reasons for overclocking your graphics card. Gamers are always looking forward to a little extra boost in terms of framerate. Even though most of the time the boost is far from noticeable, overclocking remains the last resort when you can't afford to buy a brand new VGA card.
The stock clock speeds for the ASUS EAX1600XT card that we received, were 588MHz for the core and 693MHz for the memory.
After a bit of tweaking and messing around with the core and memory clocks, we settled at a core speed of 650 and 738 for the memory. The overclocking speeds are very high for this type of card, especially if we consider that this card uses a passive cooling system. However, we believe that if the card was equipped with a fan cooling system, then we could have pushed it even further, especially since ATI chipsets are known for their high overclocking potential.
Overclocking is all well and good, but does it provide any gain. Let's see if we achieved any difference in performance.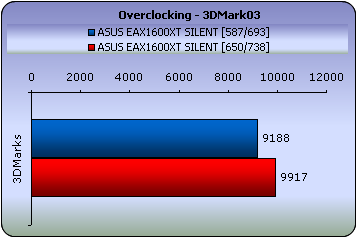 Significant increase in 3D Marks was archived after overclocking.
The performance increase in NFS MW after overclocking, was at times more than 2 fps up.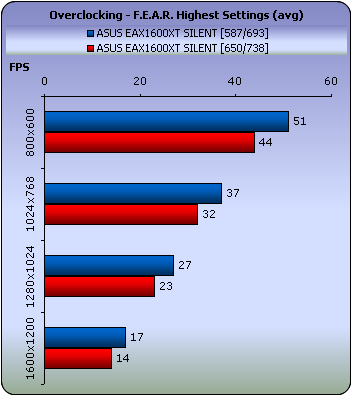 But unfortunately, in F.E.A.R, the card disappointed us and reported lower framerates than when at the default clock speeds. This could have been due to the fact that card was overheating during the benchmark.