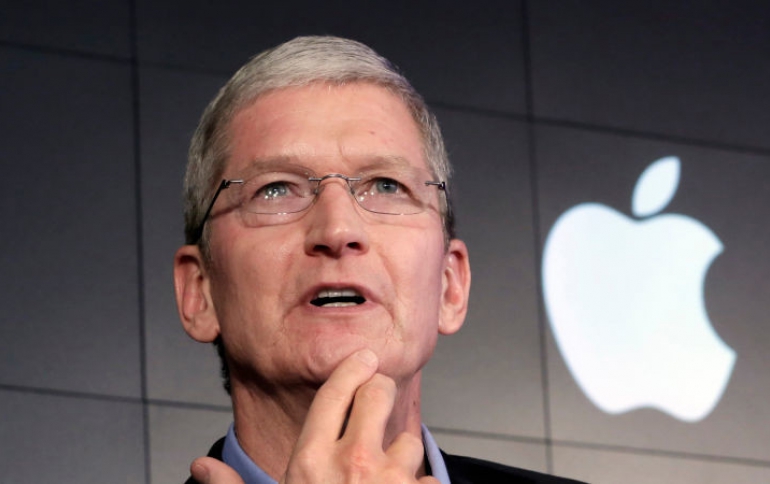 Apple Cuts Sales Forecast on Slow China Sales
Apple on Wednesday took the rare step of cutting its quarterly sales forecast, with Chief Executive Tim Cook blaming slowing iPhone sales in China, whose economy has been dragged down by uncertainty around U.S.-China trade relations.
Apple revised its guidance for Apple's fiscal 2019 first quarter, which ended on December 29. The company now expects the following:
Revenue of approximately $84 billion
Gross margin of approximately 38 percent
Operating expenses of approximately $8.7 billion
Other income/(expense) of approximately $550 million
Tax rate of approximately 16.5 percent before discrete items
Based on these estimates, Apple's revenue will be lower than the company's original guidance for the quarter, with other items remaining broadly in line with the previous guidance.
The news sent Apple shares tumbling in after-hours trade, hammered Asian suppliers and triggered a broader selloff in global markets.
"While we anticipated some challenges in key emerging markets, we did not foresee the magnitude of the economic deceleration, particularly in Greater China," Apple CEO Tim Cook said in a letter to investors.
However, some analysts questioned the impact of Apple's own actions, such as its unyielding pursuit of high selling prices for its products.
Samsung said last month it would cease operations at one of its mobile phone manufacturing plants in China, after seeing its share of the Chinese market drop to 1 percent in the first quarter of 2018 versus 15 percent in mid-2013.
In November, Apple company said it would quit disclosing unit sales data for iPhones and other hardware items, leading many analysts to worry that a drop in iPhone sales was coming. And after several component makers in November forecast weaker-than-expected sales, some market watchers called the peak for iPhones in several key markets.
In November, Cook cited slowing growth in emerging markets such as Brazil, India and Russia for lower-than-anticipated sales estimates for the company's fiscal first quarter. But Cook specifically said he "would not put China in that category" of countries with troubled growth.
In his letter, Cook said Apple has $130 billion in net cash and that it intends to continue its efforts to reduce that cash balance to net zero, which the company has so far accomplished through dividend increases and share buybacks.
Cook also said that Apple new the different timing of our iPhone launches would affect the company's year-over-year compares. Apple's top models, iPhone XS and iPhone XS Max, shipped in Q4'18—placing the channel fill and early sales in that quarter, whereas last year iPhone X shipped in Q1'18, placing the channel fill and early sales in the December quarter.
He added that sales of Apple Watch Series 4 and iPad Pro were constrained much or all of the quarter. AirPods and MacBook Air were also constrained.
Despite these challenges, Cook believes that Apple's business in China has a bright future. "The iOS developer community in China is among the most innovative, creative and vibrant in the world. Our products enjoy a strong following among customers, with a very high level of engagement and satisfaction. Our results in China include a new record for Services revenue, and our installed base of devices grew over the last year. We are proud to participate in the Chinese marketplace," Cook said.
While Greater China and other emerging markets accounted for the vast majority of the year-over-year iPhone revenue decline, in some developed markets, iPhone upgrades also were not as strong as Apple thought they would be. "While macroeconomic challenges in some markets were a key contributor to this trend, we believe there are other factors broadly impacting our iPhone performance, including consumers adapting to a world with fewer carrier subsidies, US dollar strength-related price increases, and some customers taking advantage of significantly reduced pricing for iPhone battery replacements," Cook said.
Apple's first cut in its sales forecasts since 2002 will have an impact to companies inclusing Foxconn, Lumentum, Cirrus Logic and Skyworks.
In addition, Apple is obviously facing a lack of innovation, and the U.S.-China trade war drove the Chinese people to support local phones.
The downturn may signal better news for China's Huawei, which has overtaken Apple to become the new No. 2 in smartphones, according to the analysts.
Huawei has stepped up the competition with its flagship SoC, the 7nm Kirin 980.
At this point, the only companies to announce 7nm processors for smartphones are Apple and Huawei. Taiwan Semiconductor Manufacturing Co. (TSMC) makes the chips for both companies.
Nearly 60% of Apple's revenue comes from the iPhone. What's worse, more than 75% of Apple's revenue depends on mature product lines — the iPhone, iPad and Macintosh.
The top-two smartphone suppliers, Samsung and Huawei, have a wider range of products than Apple supporting their operations.
Last month, market research firm International Data Corporation (IDC) said smartphone shipments would rebound this year, returning to low single-digit growth, after falling by about 3% last year.
IDG said emerging markets, 5G and new product form factors would help revive the smartphone market.
Besides the disappointing revisedr guidance, Apple's performance in many areas showed strength in spite of these challenges.
Apple's installed base of active devices hit a new all-time high—growing by more than 100 million units in 12 months.
Also, revenue outside of the iPhone business grew by almost 19 percent year-over-year, including all-time record revenue from Services, Wearables and Mac. Apple's non-iPhone businesses have less exposure to emerging markets, and the vast majority of Services revenue is related to the size of the installed base, not current period sales.
Services generated over $10.8 billion in revenue during the quarter, growing to a new quarterly record in every geographic segment, and Apple is on track to achieve its goal of doubling the size of this business from 2016 to 2020.
Wearables grew by almost 50 percent year-over-year, as Apple Watch and AirPods were wildly popular among holiday shoppers; launches of MacBook Air and Mac mini powered the Mac to year-over-year revenue growth and the launch of the new iPad Pro drove iPad to year-over-year double-digit revenue growth.
Apple also expects to set all-time revenue records in several developed countries, including the United States, Canada, Germany, Italy, Spain, the Netherlands and Korea. And, while we saw challenges in some emerging markets, others set records, including Mexico, Poland, Malaysia and Vietnam.
"Most importantly, we are confident and excited about our pipeline of future products and services. Apple innovates like no other company on earth, and we are not taking our foot off the gas," Cook added.