AMD Opens New 300mm Fab 36 In Dresden, Germany
AMD's new facility will help AMD nearly double its output in the next three years, in order to meet growing demand for AMD64 processors. At a ceremony attended by top German government officials and leaders from across the semiconductor industry, AMD today announced the grand opening of its 300 millimeter (mm) Fab 36 in Dresden, Germany.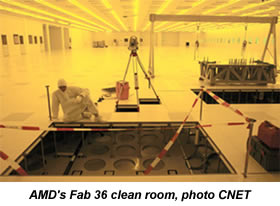 "The on-schedule, on-plan opening of Fab 36 is the latest achievement in AMD's growing track record of flawless execution on our manufacturing strategies and goals," said Hector Ruiz, chairman of the board, president and chief executive officer of AMD. "In AMD Fab 30, using our patented Automated Precision Manufacturing (APM) capabilities, we have had tremendous success in rapidly transitioning to new technology generations and quickly achieving mature yields. Fab 36 is designed to continue this rock-solid consistency, ensuring we can effectively and efficiently meet the growing demand for AMD 64-bit solutions worldwide."
Under APM, AMD can tweak the manufacturing recipe of a single wafer as it winds through the entire production process, which takes weeks. In the past, semiconductor makers had to run several wafers, look at the results, and then adjust the formula.
As a result, AMD can get to what the industry calls "mature yields," or the situation where the majority of chips in a given wafer work. APM also lets the company ramp up or decrease output of specific chips while in the middle of a production run to better suit what's happening on store shelves.
With the production ramp in Fab 36 progressing on schedule, the company intends to make 90nm production shipments in the first quarter of 2006 and begin 65nm production by the end of 2006. AMD has set a goal to be substantially converted to 65nm in Fab 36 by mid-2007.
AMD plans to add production output on a steady year-to-year basis, giving it the potential to ship as many as 100 million units in 2008, while also keeping fab utilization at consistently high levels. This will help AMD meet growing demand for its AMD64 processors and achieve its objectives of capturing a significantly larger share of the x86 microprocessor market in the coming years.
AMD chose to build Fab 36 in Dresden based on the track record of AMD Fab 30, the financial incentives package provided by the Free State of Saxony and Federal Republic of Germany, and the large number of engineering and technical personnel in the region.