AMD Launches the ATI Radeon HD 4890 Graphics Card, Nvidia Responds With the GeForce GTX 275
AMD has officially launched today the ATI Radeon HD 4890 followed by Nvidia's latest graphics solution, the new GeForce GTX275, both available at the $250-260 price point. AMD's HD 4890 is an improved version of the currently available HD4870 solution. The graphics card boasts 1.36 TeraFLOPs of compute power, has nearly one billion transistors, GDDR5 memory, and super-high clock speeds capable of approaching 1GHz. With 800 stream processors, the ATI Radeon HD 4890 has the brute strength needed to tackle the latest 3D games.
The available 1GB of GDDR5 (256bit) has been been pushed to operate at 850MHz (750MHz for the HD4870) and the core runs at 975MHz (900MHz for HD 5870). According to these numbers, you may expect a 10% higher performance from the new HD 4890 compared to the HD 4870 graphics card.
The power consumption of the card is 60W at idle and 190W at full power. The card is will also occupy two slots on your PC after installation and it can be also used in CrossfireX configurations. The available connection interface includes DVI?2 and HDTV output.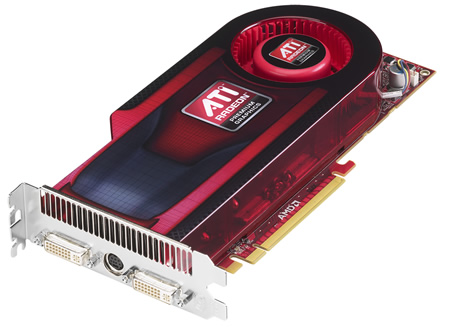 On the other hand, Nvidia is offering the GeForce GTX 275 based on the 55nm G200 core. The GPU is clocked at 633MHz and the 1GB GDDR3 memory onboard runs at 1,134MHZ. Nvidia is using a 448bit memory interface, compared to AMD's 256bit. The card also features 240 processor cores operating at 1404 MHz and 80 texture processing units. It's power consumption is 219W, wich is significantly increased compared to the 183W of the GeForce 285GTX, mainly due to the increased clocking of the GPU. The GTX275 supports SLI configurations and it is equipped with DVIx2 and no HDTV output. In price and performance, it sits between the GeForce GTX 260 and the GeForce GTX 285.
The GeForce GTX 275 was announced alongside the availability of the new GeForce Power Pack #3, which includes a host of free, new PhysX and CUDA-enabled content for GeForce owners. The Power Pack #3 includes three new applications that take advantage of PhysX hardware acceleration, including a custom PhysX patch for Ascaron?s Sacred 2: Fallen Angel; a never-before-seen demo and benchmark for Star Tales, an ambitious social networking game from the Chinese developer QWD1; and the source code to the PhysX screensaver for community modding and distribution. It also includes two new CUDA-accelerated applications, MotionDSP vReveal and SETI@home.
Both Nvidia's and AMD's solutions will be available in the middle of April for $250-260.
Below you can see a comparison of AMD's HD4890 and Nvidia's GeForce GTX 275.
AMD HD4870

Nvidia GeForce 275GTX

Manufacturing process

55nm

SP

800

240

GPU clock

850MHz

633 MHz

Memory

GDDR5 1GB

GDDR3 896MB

Memory clock

975MHz

1134MHz

Memory interface

256bit

448bit

Texture units

40

80

ROP

16

28

Power consumption

190W

219W