AMD Demonstrates the Cinema 2.0 Experience, Talks About TFlops with New Radeon HD 4850
At a press conference June 16, 2008, in San Francisco, AMD demonstrated a milestone achievement in realistic and interactive visual computing through the processing power of its forthcoming teraFLOPS graphics chip, codenamed "RV770". The event was held at the same day Nvidia released its GeForce GTX200 series of GPUs.
The Cinema 2.0 demo showed the fusion of dynamic real-time interactivity with cinematic digital effects that appear to be real places and things captured on video.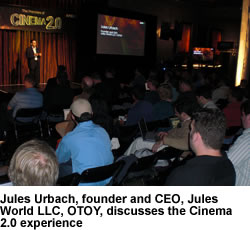 "With Cinema 2.0 you won?t just play movies, you?ll play in them. Imagine the ability to look around the environments in a sci-fi movie, put yourself in the driver?s seat in a race scene, duck behind things and pop up to see what?s going on in an intense firefight ? all of these things are possible with Cinema 2.0," said Charlie Boswell, director, Digital Media & Entertainment, AMD. "The challenge for any director has always been taking a wonderful vision in the canvas of the mind and translating that to film for the audience to see. Cinema 2.0 breaks down the time and cost barriers of getting a scene or shot that?s ?just right?, and what?s better, allows audiences to dive deeper into the experience to explore every part of that director?s vision."
The secret of Cinema 2.0 is the blending of highly complex and realistic graphics that traditionally are the exclusive domain of blockbuster films, with the dynamic 3D interactivity of popular video games. Before now, a typical computer-generated scene could take up to 30 hours to render each frame on CPUs. To achieve the smooth interactivity seen in today?s games, a minimum of 25 to 30 frames per second of rendering speed is needed. Based on these numbers, conventional wisdom among prominent game developers and expert computer graphics artists estimated a Cinema 2.0-like technological milestone to be up to ten years away.
For more information on Cinema 2.0 and the technology that makes it possible, and to hear what top game developers and gamers have to say, visit www.amd.com/cinema2.
AMD plans this summer to introduce "the world?s highest performing graphics processor" ? a chip more powerful than every generation of video game console ever brought to market combined, with one full teraFLOPS of processing power per chip. The first "performance" video card will be the ATI Radeon HD 4850, expected to ship next week for around $200.The 55nm signle-GPU graphics card will consume 110W of power.
In the following table you can see the complete series of AMD's next generation of GPUs.
| | | | | |
| --- | --- | --- | --- | --- |
| Code name | Brand name | Segment | Competition | Availability |
| R700 | To be decided | Ultra Entsusiast | Nvidia 9800GX2, GT200 | ~8 weeks |
| R770 XT | ATI Radeon HD 4870 | Entsusiast | Nvidia 9800GTX | July 8 |
| RV770 PRO | ATI Radeon HD 4850 | Performance | Nvidia 8800GT, 8800GTS, 9600GT | June 25 |
It is obvious than AMD is directly competing with Nvidia's GT200 series of GPUs. AMD claims that the RV770 chip offers almost twide the the performance/Watt compared with the GTX200, mainly due to the 55nm manufacturing process. The size of the RV770 is also smaller than he GTX200.