6. Final thoughts
The AC Ryan Veolo is among the first ever media streamers / players based on the Android operating system. That give you the freedom to enjoy the numerous Android apps on a big screen, play video, listen to music, view pictures, play games and generally do whatever you typically do with an Android device.
The device comes in a complete package, it is very compact in size as well as dead silence. It comes with an ARM Cortex 9 1.0GHz processor capable of reproducing 1080p clips as well as a GPU for playing games. The Veolo 3-in-1 remote is a very interesting as it can replace the mouse/keyboard configuration needed to typically control a device and navigate across across its menus. It may take you some time to get used with but still, you can add a wireless mouse/keyboard set and make your life easier.
.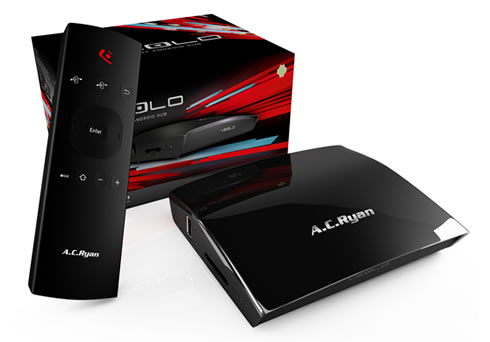 This player supports the majority of video formats and bit rates. The playback was smooth even with demanding Blu-ray files. However, there are still a few movie formats that won't be playable, such as H264 encoded with HighProfile, but for the majority of you this won't be a big issue. The included HDMI cable will work great with almost any kind of audio and will stream it to your TV - the only case you won't hear audio through your speakers is with DD TrueHD audio tracks.
The remote control is responsive but the QWERTY keys are a little bit hard to press. The installed software player is good although most of the times we used the MxPlayer and enjoyed support for subtitles.
Note that the player does not support "YAMJ" pages, so you need to get some other app for that case.
The network's speeds were rather low so make sure you copy all your files under a desktop/laptop computer.
Gaming is also possible but not all the apps will be fully playable. And with HD games, the remote control doesn't offer any zoom in/out function so you may have some trouble playing Angry Birds - so use an external keyboard in that case.
Concluding, the ACRyan Veolo will bring you some of the Android experience in your TV, although there are some limitations. It will offer you full content playback of a 1080 movie at a less than 9 Watt power draw. The question to be answered by you is whether you are ready to spend €200 for an Android player.
Positive
- Full retail package - HDMI v1.3 cable included
- Plays almost all video & audio formats up to 1080p
- Includes 2x USB2.0 ports
- Includes both Wifi (b/g/n) and wired lan (1Gbit) connection
- Remote control offers a new approach for handling media players
- Official Google Market support
- Good performance at various benchmarks and games
- 4GB internal memory for OS and apps
- Small dimensions/weight
- Dead silence (fanless)

Negative
- High retail price
- Local Lan and internal memory copying speeds are low
- Doesn't offer 24p and HighProfile playback
- No news about updating to 2.3 or even 4.0 Android
- Failed to playback DD TrueHD clip
- Does not work with Skype (mic/camera)