ACRyan PlayOnHD Mini review
1. Features
Some time ago we had the chance to test the PlayOnHD! media player by AC Ryan. Today we are presenting its small brother, the PlayOnHD! Mini! Now that's a challenge. How do you improve an already successful product with so many features and abilities? Or is it redesigned to target a different consumer group? Let's find out...
- Features
The most obvious change for the new product is its size.. To be honest, we couldn't believe in our eyes when we saw the PlayOnHD!.Compared to the AC Ryan PlayOnHD!, the new product look extremely small and compact. The second thing we soon noticed was that the Mini is totally silent, since it has no moving parts inside! In addition, it is passively cooled with a fanless system.
Apart from being small and silent, the mini offers all those features you would expected from a modern media player, allowing you to stream & play from your media storage, PC or your other Playon!HD. You can play MKV / RMVB / H.264, Plays TS / M2TS / BD Folders, and more. The sound features include DTS Downmix and an Optical Digital Audio Out (DTS / Dolby Digital) is available. It comes with a full-sized remote control and offers many internet services such as SHOUTcast radio, Network streaming and support for WiFi connection (via extra Wireless-N USB dongle). The two USB ports allow you to plug external HDD & USB storage devices and the included HDMI cable should be ideal for your high definition needs.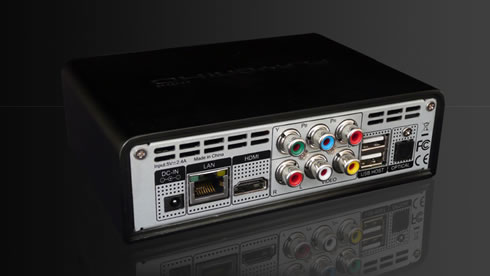 Here are the list of the full specs of the player:
Supports Full HD-video playback up to 1080p
Supports Dolby® Digital and DTS surround sound
Supports video playback via UPnP network streaming
Browse for shared videos, photos and music from networks and USB
Flash Drives and USB external storage
Supports file transfer between HDD, USB, Network PC and NAS
Built in P2P file download management
File formats supported
Audio Decoding - WMA, MP3, Real Audio (RA)
Image Decoding - JPEG, BMP, PNG
Video Decoding - *[MPEG-1] MPG/MPEG/DAT
*[MPEG-2] MPG/MPEG/VOB/ISO /IFO/TS/TP/M2TS
*[MPEG-4] MP4/AVI/MOV
*[H.264/AVC] MKV/TS/AVI/MOV/M2TS
*[DviX 3/4/5/6, Xvid] AVI/MKV
*[WMV9] WMV
*[FLV] FLV
*[Real Video 8/9/10] RM/RMVB support up to 720p
Subtitle - SRT, MicroDVD SUB, SSA, SUB/IDX
Store, Play, Stream
Digital audio, video & images
HDMI 1.3 | Full HD 1080P
Plays Full HD video formats/codecs (incl. MKV, RM/RMVB, H.264 etc)
Wired Network
Wireless Network (optional)
supports external USB Harddisk / external USB storage
2xUSB2.0
Remote Control
HDMI digital video

High Definition Mulitmedia Interface

Newest high definition standard integrating digital audio & video

Single cable with user-friendly connector

Supports up to Full HD 1080p
Digital Audio/Video/Image Playback

Playback audio / video / images via audio/video output

via digital or analog connectors
- HDMI (Audio/Video)
- Component YPbPr (Video)
- Composite (Audio/Video)
- S/PDIF Coaxial (Audio)
- S/PDIF Optical TOSLink (Audio)

Audio pass-through: DTS/Dolby Digital/Dolby Digital Plus
Media file formats supports

Video Codecs:
- MPEG-1 / MPEG-2 / MPEG-4 SP/ASP/AVC (H.264) / XviD / DivX / WMV9 (VC-1) / RealVideo 8/9/10 (up to 720P)

Content Formats:
- AVI / MKV / TS / TP / TRP / M2TS / MPG / MP4 / MOV / M4V / VOB / ISO / IFO / DAT / WMV / ASF / RM / RMVB / FLV resolution up to 720p / 1080i / 1080p

Audio Codecs:
- MP2 / MP3 / OGG Vorbis / WMA Std / PCM / LPCM / MS-ADPCM / LC-AAC / HE-AAC / COOK / RA-Lossless

Image:
- HD JPEG / BMP / GIF / TIF / PNG
Video Playback features

Supports subtitles (SRT / SMI / SSA / ASS / IDX/SUB / SUB)

Playback functions : Single File, Repeat One, Repeat All

Play, Pause, Stop, Fast Forward

Resume playback from last location

Thumbnail view
Audio Playback features

MP3 / OGG / WMA / WAV / AAC / FLAC

MP3 ID3 tag display : Title, Artist, Bitrate etc

Playlist function

Can be used as independent music player for music playback without being connected to TV
Internet Radio

Enjoy easy access to a digital world of internet radio
Image View features

HD JPEG / BMP / GIF / TIF / PNG

Image Zoom-in & Rotate functions

Advanced slideshow with interval selection & browsing function

Set audio playback as background music during slideshow
Network - Wired & Wireless*

LAN Ethernet 10/100Mbps Auto-negotiation

supports Wireless WLAN* 802.11b/g/n

Supports WLAN* security WEP / WPA

Supports WLAN* Peer-to-Peer (connects wireless without router)

Built-in DHCP for Auto IP or Manual Fixed IP
* Wireless WLAN is supported via an extra option (not incl.) of USB WLAN adaptor
NAS Network Drive / Network Player

Great as Network Media Center

Functions as NAS Network Drive (accessible via network from all NAS capable devices eg. PC, XBOX, PS3 etc)

Browse network by navigation or direct IP address

Save Shortcuts to easily access network locations

Plays / streams audio/video/image media from any device in network

Use Playon! HD to play any media in network

Play media stored in Playon! HD from anywhere in network
Advanced File Management

File Management allows viewing of entire disk drive contents and instant playback of media files

Media Library Browser scans and display all Image / Audio / Video contents

File Copy, File Paste, File Delete, Add New Folder, Copy All, Delete All

Multi-Language on-screen menu : English / Spanish / French / German / Italiano / Dutch / Traditional Chinese
Connect to PC via USB2.0 / Network / Wireless

USB2.0 480mbps / compatible with USB1.1

Network RJ45 10/100 mbps

Wireless* Network 300mbps
* Wireless WLAN is supported via an extra option (not incl.) of USB WLAN adaptor
System

Firmware upgradable
Connectors

Audio/Video Out
- HDMI 1.3
- 3x Composite socket (Stereo Audio L/R & Video)
- 3x Component socket Y-Pb-Pr
- SP/DIF Optical (TOSLink)

Data
- 2x USB2.0 Male A (Host ports for connecting external storage)
- RJ45 Network

IR Remote Control

Full function remote control