2. Opening the box
The ACRyan Veolo retails for about €200 (including VAT 23%) and it is backed by a 2-year carry-in warranty, valid from the date of purchase. Considering that many full HD media players can be purchased for about €100 or even for less, the Veolo is pricey, although Android fans will appreciate the player's extra features and apps.
Veolo is described as a "Smart Android Hub" onto its small retail package:
The box includes:
an HDMI 1.3 Cable
the VEOLO 3-in-1 Remote Control
2x AAA Batteries
a DC-In 5V Power Adapter
a Quick Start Guide
The player has a curvy design and is covered by a black plastic outshell, which easily attracts fingerprints. An operation LED is found on the front, (white under operation, red in standby mode) along with the " A.C. Ryan" and "VEOLO" labels. The device is compact enough at just 150 x 114 x 36 mm and its weight is 375 g.
A USB2.0 host, an SD/SDHC slot-in card port (up to 32GB) and the power button are located at the right side of the device:
The rear panel includes the power input, an RCA audio output, an HDMI 1.3 output, the 1GBit LAN input, a USB2.0 host and an S/PDIF optical Audio output: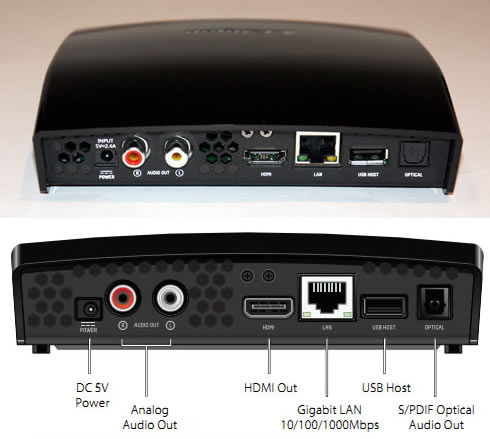 Certifications and information about the model number, MAC address etc related to the player are located underneath the player:
The player's remote control has a streamlined, minimal design. The red button on the top is the Power/Standby button. Three more buttons (Pointer On/Off , Select/Swipe and Return) are located right below the power button. A 4-way keypad offers navigation across the player's menus. Other basic operations such as going directly to the main Menu, returning to the Home page as well as volume controls are provided by the rest four buttons found on the remote control:
The other side of the remote includes a very handy full QWERTY keyboard, which offers easy data input while using the player:
To conserve battery life, the remote's pointer automatically powers off when the VEOLO is left to idle for more than 30secs. Pressing the Pointer ON/OFF button on the remote activates the pointer again. This feature may take you some time to become comfortable with. Pressing the Pointer button once displays the on-screen pointer. Press it twice and the function goes off. Lastly, the built-in sensor cancels out accidental presses on the remote's side front side while typing on the QWERTY keyboard. Comfortable distance between the player and the VEOLO 3-in-1 Remote Control is 2m - 3m.