Abit SV-1A AMD Athlon 64 Server Board
5. Bios & Overclocking
Abit SV-1A AMD Athlon 64 Server Board
Bios & Overclocking
The SV-1A features a Phoenix-Award BIOS, as you can see from the POST screen below
One thing lacking from the BIOS menus is the ability to overclock the CPU. This was expected, since the SV-1A is a server board and stability should come first. The board will automatically detect a new cpu and set the appropriate settings for FSB frequency and multiplier accordingly.
Below is a screenshot from the onboard SATA controllers.
A feature that could prove handy for low level remote system management of the board is the "Remote redirection" feature. This allows for remote management of the board via an RS-232 serial cable or a modem.
Another feature of the SV-1A is the Watch Dog function. This feature automatically reboots the system in case of a crash, and automatically resets the BIOS settings to default values in case of a wrong setting that prevents the system from booting.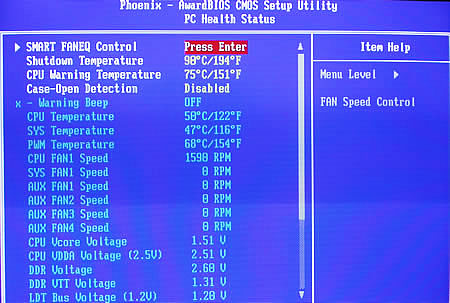 In the PC Health status menu, we can see the sensor information available for the board. The information available is impressive, and allows for a total overview of the board's status. We could not find on the installation CD-ROM, any utility for displaying this information from within the operating system, and it would be nice to have a solution from ABIT.
Cool'n'Quiet Technology automatically adjusts fan speeds according the the system components temperature. This feature helps reduce system noise and prolongs the lifespan of the system fans.