ZOTAC to Showcase New VR GO Backpack and Mini PCs at Computex 2018
ZOTAC will unveil a wide range of upcoming products and hardware in COMPUTEX 2018, including the next generation of ZBOX Mini PCs, gaming machines and the latest VR GO backpack with a new design.
The ZBOX CI660 nano comes with a new passive cooling chassis design inspired by the honeycomb. The device is equipped with an 8th Gen Intel Core i7 processor, it can handle up to a 25W TDP processor to deliver performance in complete silence.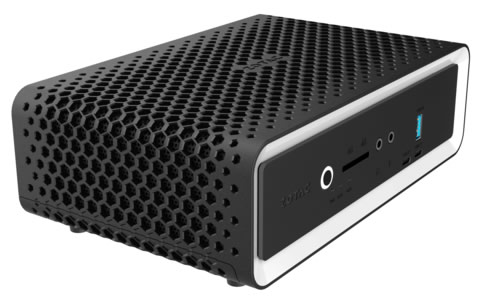 Second is the VR GO 2.0, a Backpack PC designed to be worn. The refreshed system features a new design that's smaller and lighter, but with more power as it's paired with the latest 8th Gen Intel Core processor. In addition, VR GO 2.0 features a more a comfortable backpack strap that adds separation for improved ventilation. Plus, it is one of the first ZOTAC products to feature SPECTRA Lighting with Addressable RGB (ARGB).
The latest MAGNUS Gaming Mini PC model is the first ZBOX tapping into the Killer Wireless and Killer Ethernet technology, prioritizing game or video stream. It is powered by a discrete ZOTAC GeForce GTX desktop graphics and a 8th Gen Intel processor.
The ZBOX MA551 makes another appearance with final specs in tow. it is powered by the new AMD Ryzen 5 processor with an integrated Radeon graphics.
ZOTAC GAMING also introduces two newcomers of the gaming PC series - MEK MINI and MEK ULTRA.
At half the size and lighter in weight than the MEK1 gaming desktop, MEK MINI brings even more gaming performance. It comesx with an 8th Gen Intel processor and a discrete ZOTAC GeForce GTX 1080 graphics card inside, and isolated zones to keep a low temperature for optimized performance. The desktop is also equipped with gaming-grade Killer networking hardware, a 32GB Intel Optane memory and SPECTRA with ARGB Lighting.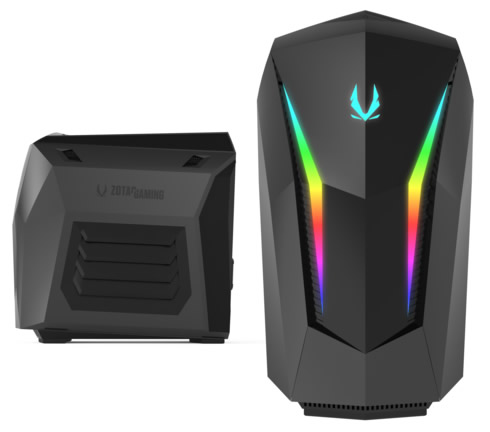 For even greater gaming performance, MEK ULTRA is the highest caliber addition to the MEK Gaming PC Series. The gaming machine houses top-tier hardware that can run today's and future's games at their highest possible performance. MEK ULTRA also features the next-gen SPECTRA Lighting with ARGB.