WD Delivers New 1 TB Hard Disk Drive
WD today launched its new line of WD Caviar Black 7200 RPM 3.5-inch SATA (Serial ATA) hard drives for high-performance desktop, workstation and multi-drive systems. The company's new family of hard drives includes models with capacities of 750 GB and 1 TB.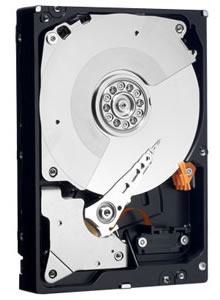 "WD Caviar Black hard drives offer the highest capacity and performance in a desktop class drive available on the market today enabling users to maximize the features and functionality of power computing applications such as multimedia, video and photo editing," said Don Bennett, WD vice president and general manager of desktop storage. "Selection of a WD Caviar Black drive ensures WD customers receive the best WD has to offer in terms of features, performance and reliability."
The Caviar Black drives combine 7200 RPM spin speed with the SATA 3 Gb/s interface and 32 MB cache. They are designed for use in high-end OEM desktop systems, as well as by users who want to upgrade the speed and capacity of their system.
WD Caviar Black hard drives feature a dual processor as well as other features including StableTrac for reduced system-induced vibration and the NoTouch ramp load technology that ensures the recording head never touches the disk media.
WD Caviar Black 750 GB (model WD7501AALS) and 1 TB (model WD1001FALS) hard drives will be available next week through distributors and resellers. Manufacturer's Suggested Retail Price (MSRP) for the WD Caviar Black 750 GB is $199 and the 1 TB is $249 USD. Both drives are covered by a five-year limited warranty.