9. Conclusion
Waitec Frisby II external CD-RW - Page 10
Conclusion
Positive

Negative

- 40x writing, 12x re-writing, 40X reading speeds
- "SafeLink" anti-coaster technology
- USB 2.0 interface
- Good seek times
- Very Good DAE ripping speed
- Very fast CD-R writer
- Retrieves C2 errors accurately
- Can handle latest SD2 builds
- Supports DAO-RAW writing mode
- Can read/write SubChannel Data from Audio/Data tracks
- Supports CD-Text (read/write)
- Supports Overburning (up to 99mins)

- Low performance in Bad Media test
- Medium error correction capabilities
- Cannot handle audio protected disc
- Noisy operation
- Elegant lid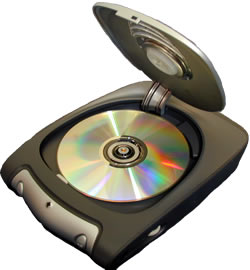 Waitec Frisby II is a very fast external recorder that will not disappoint the candidate user for his everyday desktop use. The USB 2.0 interface provides fast transfer rates for quick writing and reading operations, among with easy installation in the PC or laptop. The test results showed that the drive can easily compete other 40X E-IDE recorders in terms of writing and reading speeds. The drive's mechanism gives low seek times for fast operations, and the 12X rewriting speed seems to offer low writing times at HS-RW media. Overburning, CD-Text and reading / writing of Subchannel data are included in the drive's capabilities, among with accurate retrieving of C2 information in the reading process.
CloneCD users will be satisfied from Frisby II, since it handles all the data CD protections, including the latest builds of SD2, without the need of extra help from the "Amplify Week Sectors" feature.
The DAE tests placed Frisby II in a leading position at least in terms of speed, since the produced quality was not very high, in hard tests such as the "bad medium" ripping test and the EAC quality test. Also the protected audio discs were hard to handle for Waitec. Lastly, Waitec Frisby II is loud when reading at maximum speed, and the drive's lid looks delicate and could be more solid.
The End-User price of Frisby II is Euro 229 VAT included, and can be purchased over the Waitec's website.