8. RW Writing Tests
Waitec Frisby II external CD-RW - Page 9
RW Writing Tests
We used Nero for writing CDs at the maximum RW speed for all the tested drives. Waitec Frisby II supports 12X CLV maximum HS-RW writing speed. For the writing test we used the LiteOn 12X HS-RW media.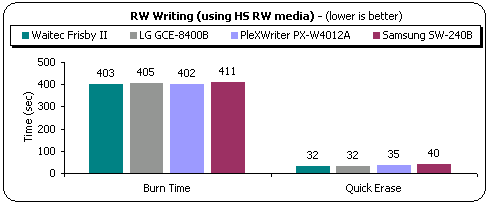 Waitec Frisby II finished the task in 403 seconds, just one second slower than PleXWriter PX-W4012A. The LG drive follows with 405 seconds and Samsung is the slowest drive with 411 seconds. In the quick erase task Frisby II shares the first position with the LG drive (32 sec).
- Packet Writing Tests
We used Ahead InCD for the packet writing tests with the CyberDrive media bulked in the retail package. The formatted disc had 534 MB of free space. We copied a 403 MB file (403.147 kbs) from a Hard Disk (on the same PC as the writers) to the formatted RW media using Windows Explorer (drag and drop).
In the writing part the Frisby II takes the third best position with 8.39X, behind the LG and the Samsung drive. Waitec Frisby II is the fastest drive in the reading task with 19.74X.