4. CloneCD Reading Tests
Waitec Frisby II external CD-RW - Page 4
CloneCD Reading Tests
- Procedure
We used CloneCD and 4 original CDs - Serious Sam 2 (SafeDisc 2), Desperados (LaserLock 2), V-Rally 2 Expert (SecuROM 2) and NBA Jam Extreme (PSX) - in order to test the reading time of the drives. We also tested the reading performance with backups of the original CDs, since the reading speed varies between original and backup media. The following pictures show the drive reading/writing capabilities as CloneCD reports: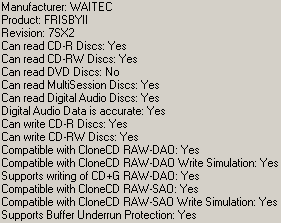 - PSX Pressed Media
For this test we used the PSX game 'NBA Jam Extreme' and we ripped the image to the HD with CloneCD. The Waitec drive finished the task in 2:17 min. The drive was not so fast and the competitive drives, especially the PlexWriter and the LG are faster.
- SafeDisc v.2 Results
Waitec Frisby II finished the task in approximately 3 minutes, for both the pressed and the backup disc. The performance is not the best in the test, allowing the Plextor and Samsung drives to take the first positions.
- LaserLock v.2 Results
With the LaserLock v.2 protected disc, Frisby II takes the first position in the pressed CD test, and the second in the backup one. Plexwriter PX-W4012A leads the race in the backup disc test with 1944.03 sectors/sec.
- SecuROM Results
Frisby II takes second position in the SecuROM v.2 test, with 2022.16 sectors/sec for the pressed disc. In the backup disc test, the Samsung drive is the faster with 2322.75 sectors/sec, while Waitec Frisby II kept the same performance as in the test with the pressed disc, taking the third place.