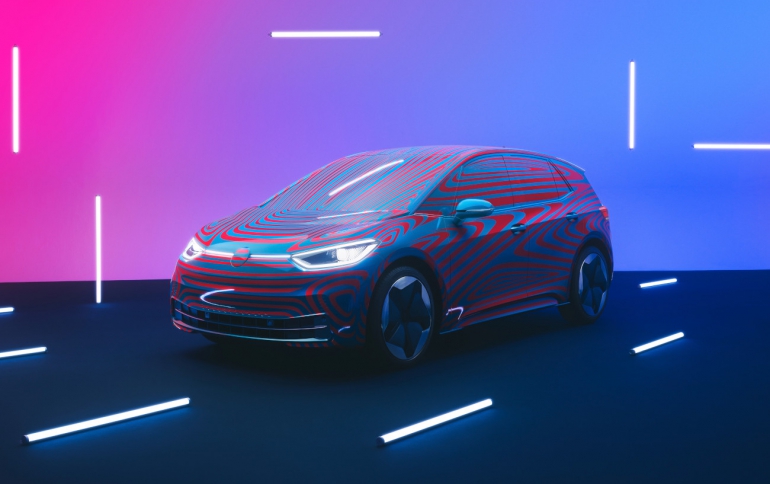 Volkswagen's Tesla Rival ID.3 Electric Car Available For pre-order
Volkswagen has starting pre-booking in Europe for the first model in its new full-electric ID. family, the ID.3.
Potential customers can register for an early production slot for the ID.3 at www.volkswagen.com/id-prebooking by paying a registration deposit of €1,000. The ID.3 1ST special edition, which has been especially configured for pre-booking, includes high-quality, high-performance equipment and is limited to 30,000 vehicles. Volkswagen is equipping the ID.3 1ST with the medium-sized battery option later available for the ID.3 series. With the three series battery options, ranges between 330 and up to 550 kilometers in accordance with WLTP will be possible. The pre-booking special edition has a range of 420 km (WLTP). While the base recommended price of the ID.3 series model with the smallest battery version starts at under €30,000 in Germany (target price), the exclusive ID.3 1ST special edition will be available for less than €40,000, before the deduction of the state subsidy in each case.
Volkswagen is offering ID.3 1ST buyers the possibility of taking electric power for their vehicles free of charge for the first year up to a maximum of 2,000 kWh – at all public charging points connected to the Volkswagen charging app We Charge, and also using the pan-European IONITY rapid charging network, in which Volkswagen is participating, which offers eco-power where this is technically feasible. The ID.3 is to be delivered to in carbon neutral form. Both battery cell production and ID. production are oriented towards this goal, for example with the consistent use of power from renewable sources. VW plans to start production of the ID.3 1ST is to start at the end of 2019 and the first vehicles are to be delivered in mid-2020.
Volkswagen is offering the ID.3 1ST special edition in four colors and three versions. All the versions will feature large wheel rims and comprehensive equipment: the ID.3 1ST with features including voice control and navigation system, the ID.3 1ST Plus with additional IQ. Light and bi-color exterior and interior design, and the ID.3 1ST Max with large panoramic glass roof and innovations such as the augmented reality head-up display.
Pre-booking is being offered in 29 European markets. The most important markets in Europe for the ID.3 will be Norway, Germany, the Netherlands, France, the UK and Austria. On average, Volkswagen plans to deliver more than 100,000 vehicles per year.
Following the launch of the ID.3, VW will roll out additional models, such as those previewed by the concept cars ID. CROZZ, ID. VIZZION and ID. ROOMZZ, and which will in the future also be named with model numbers.
In a sign of its growing marketing rivalry, Tesla sent an email to prospective German customers on Wednesday, trumpeting its Model S and Model X as having the best range of electric cars in series production.
Tesla raised $2.35 billion last week to pad its coffers amid struggles to generate profits sustainably. The California-based carmaker's push into Europe and China puts it in direct competition with VW and its upscale sister brands Audi and Porsche, which are also ramping up electric-car plans.