Updated Twitter App Highlights Big events, News Stories
Twitter is making it easier to to find and follow the big events and stories you care about in your timeline, notifications, and Explore. Also, there's a new look for Moments.
Twitter is experimenting with with topic tabs in Explore so it's easier to see what's happening in news and entertainment, and what's most relevant to you. This feature will be available in the coming months to everyone in the US on iOS and Android.
Twitter is also launching updates to search to make it simpler to find what you're looking for. Starting today, at the top of search results, you'll see related news, events, or stories and be able to tap in to get a recap and see the latest discussion, videos or scores.
Last year, Twitter introduced "Happening now" at the top of the timeline for sports, so if your team is playing you can follow along with Tweets about the game and the score, all in one place. This feature is now expanding to include Tweets about breaking and personalized news. At the top of your timeline, you'll see news that's relevant to you along with the surrounding Tweets and videos. Again, this will be available in the coming months to everyone in the US on iOS and Android.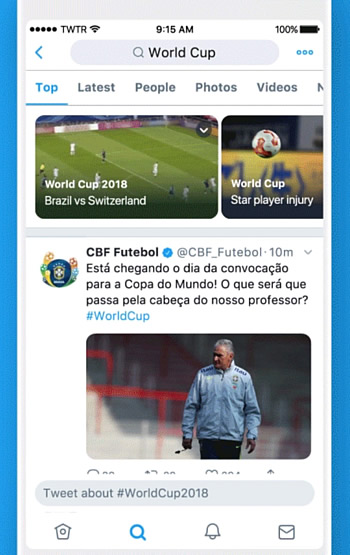 Besides the already available breaking news notifications, Twitter is experimenting with sending notifications to you based on your interests (like who you follow and what you Tweet about). You can turn off these notifications by going to your recommendations settings and toggling to not see news. These notifications will be available in the coming weeks to everyone in the US on iOS and Android.
Moments launched in 2015 as a way to discover and learn about what's happening - no matter which accounts you follow.
Right now, you swipe horizontally to read Moments, but Twitter says that Moments are easier to use vertically, just like your timeline, with the change to be already in progress. Some Moments - including Moments outside of the US, Sponsored Moments and Moments created by you - will temporarily continue to be horizontal as we roll out this change.
Twitter is rolling out multiple timelines in some US Moments to help you see all the best Tweets surrounding a story: a recap timeline showing Tweets you may have missed, another showing the latest, as well as top commentary when it's available. If there's a live video, you'll see it there, too.
And, the World Cup fans can keep up with every shot, save, and goal on Twitter with a dedicated World Cup page and individual pages for every game, including scores, Tweets, videos, and Moments. You can find these pages at the top of your timeline, in search, or in Explore! Available today on Twitter for iOS and Android as well as mobile.twitter.com in English, Spanish, Portuguese, Japanese, Korean, French, Italian, German, Russian, and Arabic.
With these changes, Twitter is trying to attract a bigger, broader audience. They follow several iterations to make the social-media platform less cumbersome for new users.