1. Features, specifications
Titan is a well respected company for cooling products. Apart from CPU coolers it also offers HDD, VGA, and many other related products. Today's hard disk drives do need some additional cooling products since they tend to operate many hours and excessive heat does affect the performance and lifetime of electric circuits. Today we are taking a look to Titan TTC-HD90, a product that aims to cool down and at the same time lower the produced noise coming from your HDD.
Titan's TTC-HD90 helps to reduce you rHDD's temperature, noise, and vibration.
It has a unique fanless design with high performance aluminum heatsink, which is able to provide great heat dissipation combined with silent opeartion.
The set consists of two large pieces of high conductive thermal pads attached to the upper and lower heatsinks.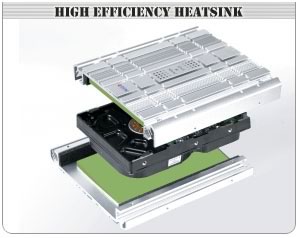 This especially ensures proper heat transfer between the entire hard disk and the aluminum heatsinks, and the high conductive thermal pads can actually provide the best effect of heat dissipation and vibration reduction. The HDD cooler also includes surrounded sound insulation and absorption pads to help reduce noise.
Installation of this HDD cooler is a very simple and easy task. Just place the hard disk into the heatsink, tighten few screws as the installation guide and it's done! The HDD cooler is very elegantly designed and looks sleek and stylish.
- Main Features
Fanless design with high performance aluminum heatsink
High conductive thermal pad to provide the best effect of heat dissipation and vibration reduction
Includes surrounded sound insulation and absorption pad
Stylish design, easy installation, suitable for 3.5" Hard Disk Drives
- Specifications
Outline Dimension
146x155x42 mm
Material
Aluminum
High conductive thermal pad
( Upper side )
130x85x2 mm
High conductive thermal pad
( Lower side )
130x85x5 mm
Net Weight
765 g