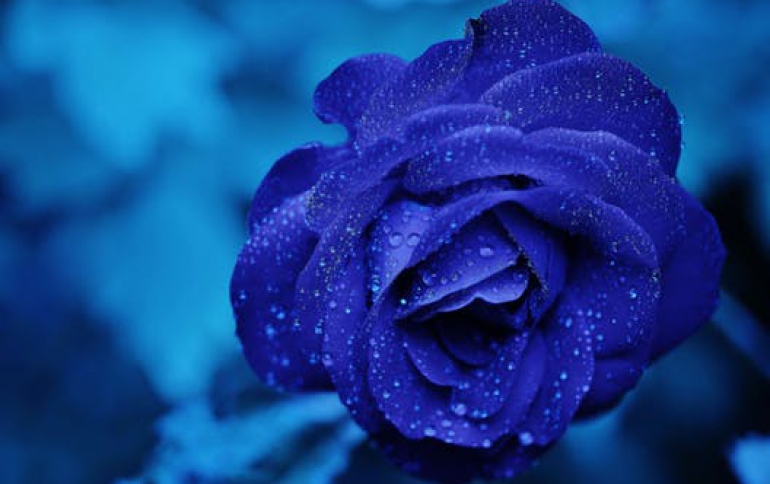 Thermaltake At 2015 CES
Thermaltake brands Thermaltake, Tt eSPORTS and LUXA2 showcase their technology through new products at the Consumer Electronics Show 2015 (CES 2015) in The PALAZZO Las Vegas. The company debuted the "Tt LCS Certified" badge found in PC cases, PSU, air and liquid cooling solution for the hardcore enthusiasts.
The new Core X1, X2, X9 cube cases, ) iTX, M-ATX, E-ATX motherboards supported respectively, which is supported by liquid cooling and the new water cooling DIY kit. Featuring a cube design, the series offers endless stackable ability and expandability for enthusiasts to create massive liquid cooling systems for a single system, file server or even dual systems. Users can customize the chassis for the best viewing presentation with an interchangeable window and I/O panel design.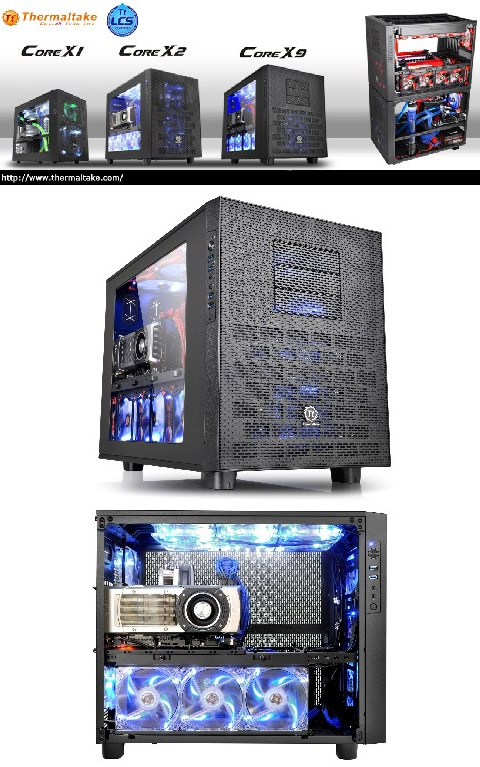 The Core X Series' modular drive racks allow gamers to install up to six data storage devices, a dual expansion slot VGA as well as tower CPU cooler. Even with a high-wattage PSU stretching to 200mm in length, it still leaves plenty of space for cable management. Moreover, two radiators can be installed on top of the chassis.

The Core X Series' cooling ability offers fan brackets with various mounting points to support any type of gaming system that can be accommodated, including DIY/AIO liquid-cooling systems and air-cooling units. Pre-installed fans reassure and guarantee the flow of aeration. The fan brackets can either be adjusted for 120mm, 140mm, or 200mm fans on the top panel, while there is room for 120mm and 140mm fans on the side panel.
Optimized for space management, the Core X Series is divided into two main chambers: the upper chamber is made for cooling performance and better efficiency, while the lower one is made for PSU and drive bays. Thanks to the removable 2.5"/3.5" drive device racks, there is plenty of flexibility to gain the maximum interior space when needed for advanced cooling performance or liquid systems build.
In addition, a customizable 5.25" & 3.5" drive bay feature enables users to freely interchange the 3.5" hard-drive cages to suit their particular needs.
Pacific RL240 Water Cooling Kit
Thermaltake's new Pacific RL240 Water Cooling Kit consists of CPU water block, D5 pump and reservoir, 240mm radiator, fittings, Luna 12 LED red fan, tube, coolant, and other accessories. Also, Thermaltake will release a full collection of LCS components such as D5 pump, T Series reservoirs, PT Series pump with tube reservoir set, and various sizes of radiators and fittings – compressions, fill ports and plugs, ID barbs extenders, and rotary adapters – in chrome and black, allowing enthusiasts to incorporate externally-modular upgrades for their chassis.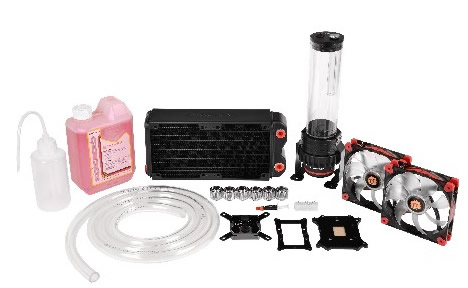 Details of Kit:
Pacific W1 CPU Water Block: The W1 CPU water block is constructed with a copper base and anti-corrosive nickel plating. Fits all modern CPU sockets.
Pacific PT40-D5 Pump/Reservoir Combo: Include a 220mm reservoir and D5 pump to provide a combination for proper water cooling circulation and capacity, manufactured from POM and PMMA material.
Pacific RL240 Radiator: With high-density fin design (FPI: 14), the 240mm radiator is optimized to accommodate high airflow and high air pressure with increased capacity.
Pacific 1/2" ID x 3/4" OD Compression Fittings (Chrome): Six brass compression fittings allow proper connection to G1/4" ports to properly secure to cooling components.
Luna 12 LED Red Fan: A cooling LED fan with anti-vibration mounting system.
V-Tubler 4T: The V-Tubler 200cm ID 1/2" (13mm) water tube provides custom PC water cooling configurations.
Coolant1000 Red: Eco-friendly pre-mixed red coolant for custom PC water cooling configurations; prevent corrosion, rust and scaling across every component for a total system solution.
Accessory: Intel and AMD universal backplated and mounting kit, 24pin ATX bridge tool, and Thermaltake thermal grease are included in the kit.
First Internet of Things (IoT) Power Supply
Thermaltake released the DPS G App 2.0 software for Toughpower DPS G power supply units, the first Internet of Things (IoT) power supply, providing IoT solution with hardware, PC software, mobile application, and Cloud management platform.
In practical, Thermaltake is offering "Three Screens and a Cloud" service, users are capable of accessing data as well as doing PSU management on various PC and mobile devices, anytime, anywhere. An enhancement of the previous DPS App, DPS G App 2.0 enables users of systems with Toughpower DPS G PSUs to digitally monitor key parameters of the CPU and VGA, including voltage, current, wattage, and temperature.
The smart software digitally calculates the electricity cost and enables users to monitor CPU and VGA parameters even when the system is being used. Users can organize and save the record of personal usage pattern in detail for future review or analysis; each saved record can record up to six hours of usage. Plus there is no limit on the number of PSUs being monitored at any one time.
DPS G App 2.0 also provides users a convenient way to share power usage results with friends and colleagues through social network applications such as Facebook, Twitter, and Weibo, or via e-mail.
Last but not least, the DPS G App 2.0 software allows users to monitor and adjust the fan speed of the system's power supply in either silent or performance mode.
The DPS G App 2.0 is now available for Toughpower DPS G power (450W, 550W, 650W, 750W, 850W and 1050W with 80 Plus Gold certification). Users can download the software either on the Apple Store or Google Play starting March, 2015.
Tt eSPORTS is also releasing the SHOCK 3D 7.1 USB surround sound headset.
Tt eSPORTS went back to the drawing board and approached the idea of making a virtualized surround sound headset with a 360° sound field. With the SHOCK 3D 7.1, Tt eSPORTS will be offering the first headset in the market to use this type of technology.
The SHOCK 3D 7.1 also features 4 EQ settings, which is user adjustable in software. On ear cup dedicated 3D 7.1 and EQ buttons, allow users to turn the 3D 7.1 surround on/off and switch between EQ settings. The dialing and volume controller is on the ear cup as well. The microphone also features an auto-mic mute design that kicks in by switching the circuit off when the microphone is pivoted upwards. Furthermore, users are able to change sound environment that fits their taste as SHOCK 3D 7.1 offers 12 different environments.
Rounding out the rest of the headphone is a soft cloth padding in the headband, thick protein leather ear pads for breathability and a cushiony feel, and adjustable headband with 10 levels of adjustment on each side for overall comfort. The ear cups swivel to fold flat for convenient transport. Gold plated USB connector for optimal signal transfer.
The TteSPORTS SHOCK 3D 7.1 USB surround sound headset will launch at CES 2015 with a MSRP of 79.99 USD.
The new THERON Plus+ SMART GAMING MOUSE, is the THERON laser gaming mouse with an upgraded AVAGO laser sensor, glossy surface coating and an updated GUI for personalized macro keys. The THERON Plus+ adds integrated Bluetooth technology to sync with a mobile device of your choice (iOS/Android) to record all your mouse usage stats.
The RGB backlighting system adds a fresh impact on your gaming atmosphere with up to 16.8 million colors on four separately controllable regions on the mouse (The mouse wheel, battle dragon, left & right side panels, and bottom panel).
The THERON Plus+ SMART GAMING MOUSE also communicates with the Tt eSPORTS Plus APP , both iOS and Android supported, to record mouse usage statistics (Total Clicks, Lift-off Counts, Distance/min, Max A.P.M.) and share gaming performance with all gamers across the globe.
The Tt eSPORTS PLUS+ App is a new application that allows users to share performance stats and share it on the Tt eSPORTS Community & Data Management Platform (http://plus.ttesports.com/).
The THERON Plus+ Smart Gaming Mouse is now available for purchase at the Newegg online store for USD 69.99.
The new POSEIDON Z Plus+ SMART GAMING KEYBOARD introduces Bluetooth technology which records all users' keyboard usage stats (Click/min, Total Clicks, Max A.P.M., Top 10 Hotkeys), to the Tt eSPORTS Plus+ community & Data Management Platform (http://plus.ttesports.com/).

The POSEIDON Z Plus+ Smart mechanical keyboard comes with a built in blue switch option, brightness adjustment, anti-ghosting keys, media keys, and the ability to disable the windows key.
POSEIDON Z Plus+ SMART KEYBOARD also comes with a Tt certified blue switches with blue metal plate. It is offering levels of adjustable brightness with an additional pause-break lighting effect plus pre-configured lighting zone combinations.
Tt Certified switches testing process for the keyboard's mechanical switches showed that they had a lifespan of up to 50 million key strokes. Furthermore, with the USB N-Key Rollover function, the POSEIDON Z Plus+ SMART KEYBOARD will allow you to hit combinations of keys at once.
The New Tt eSPORTS POSEIDON Z Plus+ SMART KEYBOARD with a suggested price of USD99.99.