1. Introduction
TerraMaster, we NAS product manufacturer, recently released their latest affordable NAS series, a new design NAS series 2-bay F2-212 (or 4-bay F4-212), supporting TRAID, BTRFS file system, Snapshot, and TFSS providing stronger data backup and better home multimedia experience, which meet the requirement of personal and home users. The main difference with the older F2-210 series is the new design elements and color matching, a more fashionable and modern appearance design, better heat dissipation, lower noise, and more convenient installation and use. The new series includes an HDD tool-free hard drive tray design that makes easy installation and removal of HDDs without tools.
The new Push-lock design automatically locks the HDD tray when you insert the HDD, preventing the drive from falling out or disconnecting. Of course, there are more changes under the hood, with a new ARM V8.2 Cortex-A55 64-bit 1.7GHz 4-core processor making it able to run the latest TNAS vNAS OS, and also support the TRAID flexible disk array management tool which provides users with an optimized, flexible, and elastic disk array management solution. Moreover, support Snapshot and TerraMaster File System Snapshot (TFSS) based on Btrfs file systems, provide full data protection and recovery solutions in case of data loss, whether it is due to operation errors, hard disk damage, or ransomware attacks.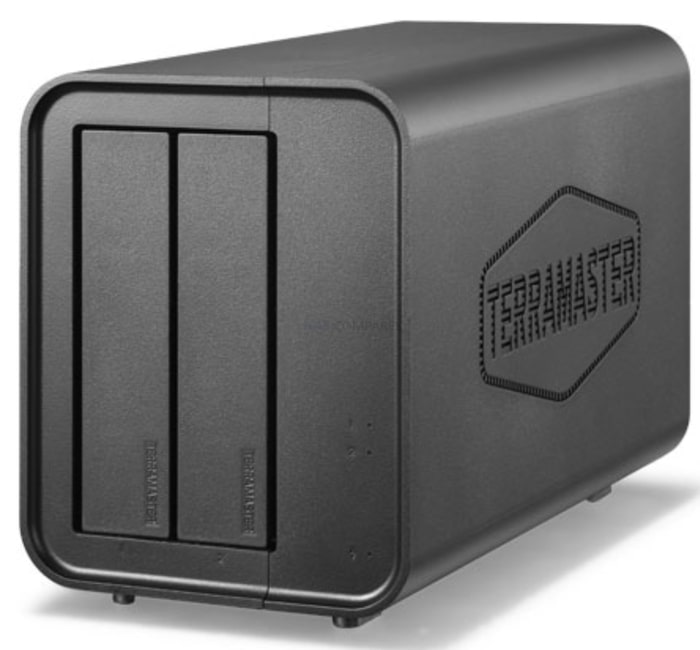 The F2-212 supports up to 44TB of raw storage, which can provide large-capacity private cloud storage for families and small teams. Equipped with the TOS 5.1 OS, which includes a large number of backup, file sharing and synchronization applications, data backup and remote work collaboration can be applied. Supporting the latest iOS and Android TNAS Mobile mobile client, users can use a variety of mobile devices to access and securely manage files anytime, anywhere, and by installing the Terra Photo application in the TNAS Application Center, users can use management tools to backup, share and organize classified photos. Can handle more demanding tasks and a higher number of concurrent users than its predecessors.
The 212 series products can also be integrated with a variety of public clouds, such as supporting Google Drive, Amazon S3, Dropbox OneDrive, and other cloud disk 2-way synchronization functions, open the data channel between your private cloud and public cloud disk, enjoy the convenience of cloud living and more secure data storage. The new ARM processor supports 4K video hardware decoding capability and is compatible with UPnP/DLNA protocol. With the firm's dedicated Multimedia Server app or 3rd-party multimedia servers (Emby, Plex), it can stream videos to a variety of multimedia devices including smartphones, tablets, Roku, Apple TV, Google Chromecast, Amazon Fire TV, smart TV, delivering users constant, reliable entertainment experiences.
The F2-212 is available at Amazon and the company's partners and resellers for a suggested retail price of $169.99.
- Full specifications
Processor 
Processor Model
Realtek 1619B 
Processor Architecture
ARM V8.2 Cortex-A55 64-bit
Processor Frequency
Quad Core 1.7 GHz
Hardware Encryption Engine
√
Memory 
System Memory
1 GB DDR4 non-ECC
Pre-installed Memory module
1 GB DDR4 non-ECC
Maximum Supported Memory
1 GB DDR4 non-ECC
Storage 
Disk Slot Number
2
Compatible Drive types
3.5" SATA HDD
2.5" SATA HDD
2.5" SATA SSD
Maximum Internal Raw Storage Capacity
44 TB (22 TB x2) (Capacity may vary by RAID types)
Drive Hot Swap
√
File System 
Internal Drive
Btrfs, EXT4
External Drive
EXT3, EXT4, NTFS, FAT32, HFS+
External Ports 
RJ-45 1GbE Network Jack
1
USB3.0 Host Port
1
USB2.0 Host Port
1
Others 
Power Consumption
20.1W(Fully loaded Seagate 4TB ST4000VN008 hard drive(s) in read/write state) 
10.4 W (Fully loaded Seagate 4TB ST4000VN008 hard drive(s) in hibernation)
Temperature 
Working Temperature
0°C  ~ 40°C (32°F ~ 104°F)
Storage Temperature
-20°C ~ 60°C (-5°F ~ 140°F)
Relative Humidity
 5% ~ 95% RH
TOS Features 
OS Supported
 
Supported Client OS
Windows OS, Mac OS, Linux OS
Supported Web Browsers
Google Chrome 97.0.xxxx, Mozilla Firefox 9.3,Apple Safari 12.1 ; Microsoft Edge 99.0.xx or later version.
Supported mobile OS
iOS12.0, Android 10.0 or later version
Storage Management 
Supported RAID Types
TRAID, Single, JBOD, RAID 0, RAID 1
Maximum Internal Volume Number
64
Maximum iSCSI Target
32
Maximum iSCSI LUN
32
Volume Expansion with Larger HDDs
TRAID, RAID 1
RAID Migration
√
SSD Cache
√
Hard Drive S.M.A.R.T.
√
Seagate IHM
√
Shared Folder Snapshot
√
File Services 
File Protocol
SMB/AFP/NFS/FTP/SFTP/WebDAV
Maximum Concurrent SMB/AFP/FTP/SFTP Connections
100
Windows Access Control List (ACL) Integration
√
NFS Kerberos Authentication
√
Account & Shared Folder 
Maximum local user's account number
128
Maximum local group number
128
Maximum shared folders number
128
Maximum shared folders syncing tasks
2
Backup 
Rsync Backup
√
Duple Backup
√
Snapshot
√
USB  Backup
√
Cloud Sync
√
Time Machine Backup
√
File System Snapshot
√
TFM Backup
√
Networking 
TCP/IP
IPv4/IPv6
Protocols
CIFS/SMB, NFS, FTP, SFTP, HTTPS, SSH, iSCSI, SNMP
DLNA Compliance
√
VPN Client
√
VPN Server
√
Proxy Client
√
Proxy Server
/
UPnP/Bonjour Discovery
√
TNAS.online Remote Access
√
DDNS
√
Access Right Management 
Import/Export users
√
User Quota Managerment
√
Local user access control for CIFS/SAMBA and FTP
√
Domain Authentication 
AD Domain
√
LDAP Client
√
Security 
Firewall Protection
√
Account Auto-block Protection
√
AES Volume and Shared Folder Encryption
√
Importable SSL certificate
√
Instant Alert via email, Desktop Notification, Beep
√
RSA 2048 Encryption(TOS 5.0)
√
PAM (Pluggable Authentication Modules)
√
OTP Authentication(TOS 5.0)
√
HyperLock File System(TOS 5.0)
√
Power Managerment 
Power Resume
√
Scheduled Power On/Off
√
Wake up On LAN(WOL)
√
UPS Supported
√
Administration 
Multi-window, Multi-task System Management
√
Custom Desktop
√
Control Panel
√
Resource Monitor
√
Syslog
√
OS UI Language
English,German, French, Spanish, Italian, Magyar, Chinese,Japanese,Korean,Turkish, Portuguese, Russian
Applications 
Application Center
√
iSCSI Target
√
TerraSync
√
Duple Backup
√
CloudSync
√
USB Backup
√
VPN Server
√
Transmission
√
qBittorent
√
Aria 2
√
Web Server
√
EMBY
√
Multi Media Server
√
Plex Media Server
√
Docker Manager
√
Snapshot
√