Sunbeam Core-Contact Freezer
3. Installation
The installation process is easy provided that you taken a few minutes to read the printed instructions. The black plastic base must be placed on the four holes of your 775 motherboard, and then be secured using the four (4) black plastic screws, as you can see at the following picture. For AMD users there procedure is even easier - just press and clip.
Make sure that the orientation of the plastic base is like above so that the produced hot air "escapes" the case via the case fan, otherwise performance would be degraded. An obvious problem we encountered is that the plastic base is very close to the motherboard's copper heatsinks. In our case we didn't have much trouble to slightly bend them and secure it, but if your motherboard includes bigger heatsinks you may have problems here.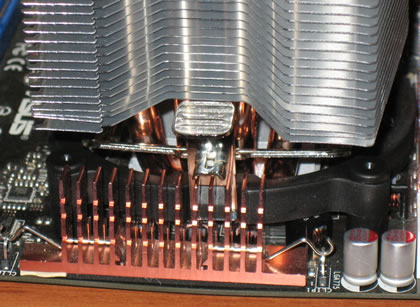 The next step is to place the cooler on the CPU.
The next step is to install the included 120mm fan. Not much to say here, you should just bend the included clips and secure it on the side of the cooler: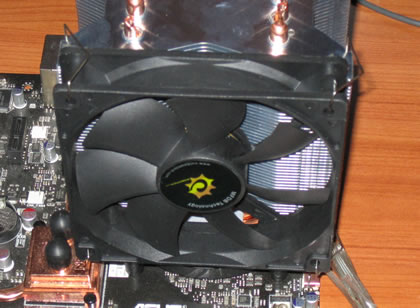 Before installing the cooler make sure that it would fit inside it in case your PC case is small. We did not have any problems with that with our Thermaltake Soprano Case: