Sunbeam Core-Contact Freezer
4. Test methodology
We have chosen to to test the cooler inside a computer case, since this is the scenario that matches a typical real life use. The cooler was installed on a motherboard that has many heatpipes. This allowed us to identify whether the size of the cooler could be an issue during installation. A quick look at the available motherboards in our labs and we chose the Blitz Extreme.
The testbed configuration is the following:
CPU: Intel E8600 Retail
Case: ThermalTake Soprano
Motherboard: Asus Blitz Extreme Bios 1024
Memory: 2x1GB SuperTalent DDR3-1600CL7
PSU: OCZ 720W
HDD: WD 80JB
Operating system Windows XP with all the latest updates installed
Software: OCCT v2.0.1 & CoreTemp 0.99.3
Thermal Paste: Tuniq TX-2
Idle time: ~30min
Load time: ~30min
Case fan rpm: 1250 rpm (full speed)
RPM speed controllable via SmartFan BIOS or via external hardware controller
In the following page we compare the cooling performance of the new Sunbeam Core-Contact Freezer with other CPU coolers we have tested in the past.
For our tests, we produced the highest possible temperature using the OCCT v2.0.1 software. Our previous reviews included Intel's Thermal Analysis Tool (TAT) that offered higher thermal production, but unfortunately it doesn't work with the latest processors.
We left both cores of our CPU running at full load for about 30 minutes. All temperatures were logged via CoreTemp 0.99.3 and the software itself. In order to get realistic numbers, we followed two overclocking scenarios:
Intel E8600 @ 3.80GHz
Vcore: 1.3750V
DDR3 Voltage: 1.80V
Other BIOS values: Auto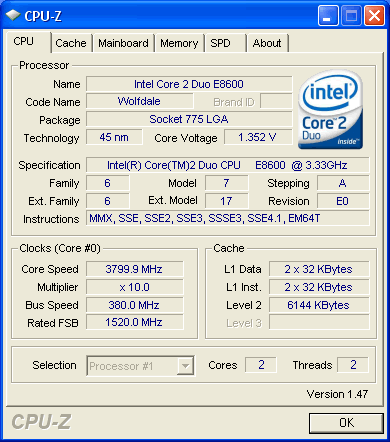 Intel E8600 @ 4.30GHz
Vcore: 1.4875V
DDR3 Voltage: 1.80V
Other BIOS values: Auto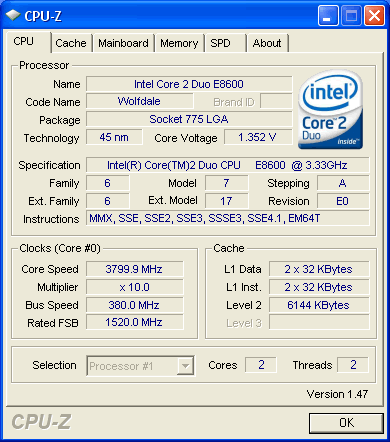 We measured the produced noise of all the coolers with the Precision Gold N09AQ Environment Meter. We decided to measure the noise with two system 120mm fans installed (by Thermaltake) and of course the noise that the power supply produces. All measurements were made just outside the case, mostly near the side and the front sides of the PC case. Remember that higher rpm means more noise, so we lowered the rpm either via the BIOS smartfan or via the 3pin controller. This way we tested all the coolers either at full or low rpm speeds.
For all the coolers we used the same thermal compound from Tuniq, the TX-2. We tried to apply the same amount of thermal paste in the same way in all the coolers. All in all we tried to have the exactly same environment conditions for all the tested coolers. Due to Vdroop (Vcore variations), a difference of 1-2 degrees Celsius in performance may be reported among PC different systems.
Finally, all tests were performed with the front PC panel closed, which is the worst case scenario in terms of internal air flow and ventilation.