2. Installation
Sony CRX 200E IDE DDCDR-W - Page 2
Supplied Package:

The package supplied was the retail European version and included: The drive itself, a quick installation guide, 1 DDCD-R blank, 1 DDCD-RW blank, mounting screws and a very useful CD-R pen.
If we take a closer look at the retail package we will see the "Early Bird Version" stamp. This stamp mostly is placed for the software and not for the hardware...In the European market, drive ships with WinOnCD 3.8/DirectCD 5.0 as the main CDR recording software. However,in France/US/Japan
the drive ships with Prassi PrimoCD Plus and Sony abCD! Actually our version contained both software packages- WinOnCD/DirectCD came in written CDR, Prassi PrimoCD Plus in pressed CD. The final European drive will in addition: Dantz Retrospect Express, MusicMatch JukeBox, PhotoStudio, Photobase, VideoImpression.
There was also a postcard inside the package, which allows the buyer to get the full software when it is available for free. Retail users will not find that, since it will come with final version software.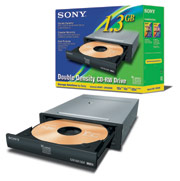 Let's take a look at the drive itself. The drive looks so different than what Sony has posted in the Japanese homepage. The drive has a black colouring and tray, and the specifications and logos are with open colour shade.
Sony makes clear that the drive supports DDCD (Double Density) format by displaying the new standard logo in the middle of the tray door. In addition, for all those who don't understand it, the "1.3GB" letters are there to make it clear. The drive has only one LED and the usual controls: eject button, headphone input jack and volume potentiometer. Finally, supported speeds are shown by the "12x/8x/32x" specification logo:
On the back of the drive we find the usual connectors (IDE interface and Power), the jumpers for setting the drive to Master/Slave option, analogue and digital audio output connectors, and 2 factory reserved jumpers (not used).
Installation:
ATAPI CDR-W drives are very easy to install. Just decide what the drive should be, master or slave, set the appropriate jumper and you are all set! After booting up your system, the DDCDR-W identifies itself as the "Sony CD-RW CRX200E". We unchecked the Auto Insert notification, checked DMA and rebooted. The drive was a March 2001 model with firmware revision v1.0f.
- CDR Software: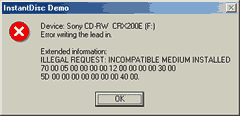 Here is what was kinda messy. The drive, as we mentioned earlier, will ship with WinOnCD 3.8/DirectCD 5.0 and in some other countries with Prassi PrimoCD Plus/abCD. For testing proposes we used the above software for the DDCD tests and Nero 5.5.1.8 for some CD/DDCD tests. Ahead InCD v2.13 supported the drive's increased capabilities and also InstantCD/DVD 6.0 supposed to do that too (but failed in real life tests with DDCD-RW media). Padus DJ 3.00.783 had problems with the DDCD media, so an update was required in order to support the new format:
Usually we don't post the product specifications, but since the CRX200E supports a new standard we will make an exception:
MAIN SPECIFICATIONS

Model Code
CRX200E
Interface
Ultra DMA/33 ATAPI
Write speed DD-R/CD-R
12x (1,800 kB/s)
Write speed DD-RW/CD-RW
8x (1,200 Kb/s :High speed)
Read speed
13 - 32x (1,950 - 4,800 kB/s)
Transfer rate (burst)
PIO Mode 4 (16.7 MB/s)
Multiword DMA Mode 2 (16.7 MB/s)
Ultra DMA (33 MB/s)
Average access time
125 ms (random)
Buffer memory size
8 MB
Dimensions (w x h x d)
146 x 41 x 197 mm
Writing methods supported*
Disc at Once, Track at Once, Session at Once, Fixed and Variable Packet
Formats and modes supported
DDCD, CD-DA, CD Extra, CD Text, CD-ROM, CD-ROM XA, CD-I, CD-I Ready, Video CD, Photo CD (single- and Multisession)
Supported operating systems
Windows 98/2000/Me
Supplied software
Sony Application Software: Roxio WinOnCD 3.8, DirectCD, Dantz Retrospect Express, musicmatch jukebox, ArcSoft PhotoBase™, PhotoStudioand VideoImpression
Test Machine:
WinMe OS
Soyo 7VCA
Celeron II 566 over clocked to 850 MHz
128MB SDRAM PC 133
WD 18GB UDMA 66
Quantum Fireball EX 6.4 GB UDMA 33
DAWI 2975 - PCI (ULTRA) SCSI Host Adapter
ATI AIW 128
PlexWriter PX-W1210A firmware v1.07 (TLA#000)
Ricoh MP7125A firmware v1.00
Acer 1208 firmware v9.GB
Sony CRX200E firmware v1.0f