7. RW Writing Tests
Sony CRX200E IDE DDCDR-W - Page 7
RW Writing Tests
We used Nero 5.5.1.8 for writing CDs at the maximum RW speed for all the tested drives. The Sony CRX200E/Acer CRW1208 support only 8x and the rest drives 10x:
The Sony CRX200E burning time is again the higher, which is natural due to only 8x re-writing speed, since it needs 610 secs to finish the task. The drive's CPU usage was good (7%) and the erase time was the fastest we have ever seen (38secs!).
DDCD-RW Writing
The DDCD format supports 8x re-writing speed. The DDCD-RW media has exactly the same size as the DDCD-R one, as Prassi PrimoCD Plus reports:

For our tests we burned the same amount of data ,as we did with the DDCD-R media, and we recorderd the burning time,cpu usage and the quick/full erase times:
| | | |
| --- | --- | --- |
| | Time (minutes) | CPU Usage |
| 8x writing | 19:23 | 9,50% |
| Quick Erase | 45sec | - |
| Full Erase | 19:18 | - |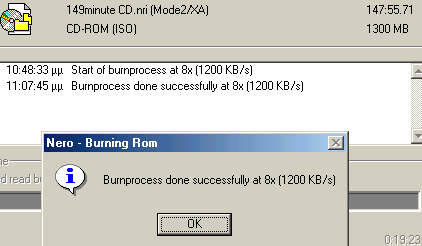 - Packet Writing Tests:
The drive is packaged with Sony abCD v1.60/DirectCD v5.01s. We used both InCD and abCD for our tests since we had some problems with InCD software. After the first write/read attempt, the drive made 2 extra minutes to finish the task and refused to read the written data:
For the same purpose, we also used Sony abCD. We used Verbatim HS-RW media and we formatted it. The formatting of the media takes around 9min.The formatted disc had 534mbs of free space. We copied a 403 MB file (403.147 kbs) from a Hard Disk (on the same PC as the writers) to the formatted RW media using Explorer (we dragged and dropped) and we completed the test twice to eliminate any possible time measurement faults and user errors:
The drive has a good packet writing speed for a 8x rewriter with 5.74X writing and 10.96X reading. The competition of course if faster due to different re-writing speeds.
DDCD-RW Packet Writing Tests
We formatted the DDCD-R media with Sony abCD v1.60. The format process took around 18minutes to complete, and after that the CD had more than 1GB of empty space!
For our tests we used the same way we tested normal CDR-W drives. We selected files which total size was around 995MBs (994.933kbs). The drive needed around 16:40minutes to write the files and around 16:46minutes to read them. The final writing/reading speeds are satisfactory if we keep in mind the file size and also the fact that the drive can re-write at only 8x:
| | |
| --- | --- |
| Write Speed | Read Speed |
| 5.68x | 5.62x |