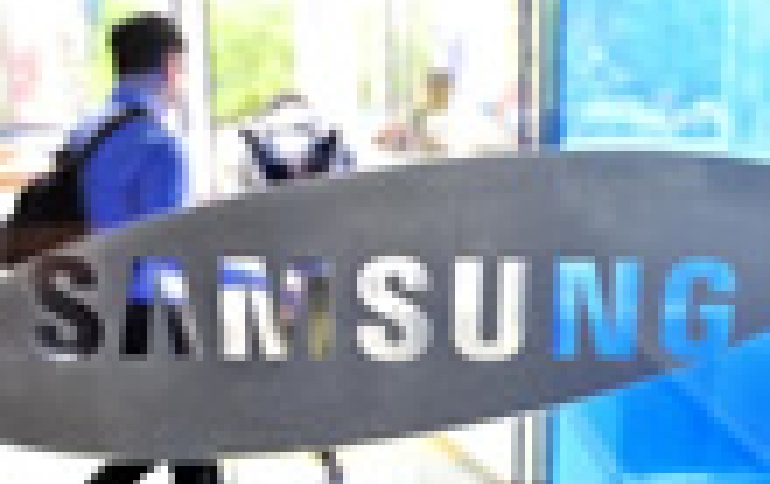 Samsung's 2015 TV Lineup to Run Tizen
Samsung Electronics said on Thursday that all its Smart TVs in 2015 will come equipped with a new platform built around the Tizen operating system, in a new effort by the company to increase the usage of the software platform. "We are focusing our efforts on Tizen right now," said Kim Hyun-suk, Samsung's president of visual display business. "We hope that other TV makers will also use it and help build an ecosystem that will help the platform grow."
"Building our Smart Platform around Tizen is a groundbreaking step towards a much more intelligent and integrated system," said Won Jin Lee, Executive Vice President of the Visual Display Business at Samsung Electronics. "Tizen not only enriches the entertainment experience for our customers today, but unlocks great potential for the future in home entertainment."
Samsung said that the Tizen platform features a redesigned Smart Hub displayed on one screen, which enables easy navigation and quick access. The new Smart Hub features easy access to content, with the first screen displaying your most recent content and tailored content recommendations for even more entertainment options. It also has optimized four-direction control that is both playful and responsive.
Another important update to the Tizen system is how easily the TV now syncs with other devices. Using Wi-Fi Direct, content is shared from a mobile device to a TV and vice-versa with just one click. With Bluetooth Low Energy (BLE), Samsung's Smart TV software automatically searches for Samsung mobile devices nearby and connects to them. This convergence has many potential—users can enjoy a multi-screen experience with access to entertainment across multiple compatible devices. Users can also watch live broadcasts or TV on their mobile devices, anywhere on their home network, even when their TV is powered off.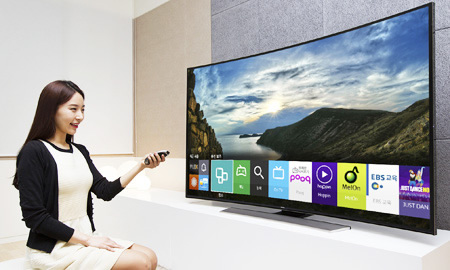 In addition, Samsung Sports Live allows users to watch live games while simultaneously checking team and player stats on the same screen. Samsung has also partnered with global games companies for a large and varied games catalogue.
The PlayStation Now cloud-streaming game service available in North America offers PlayStation gaming on Samsung Smart TVs with no PlayStation console needed. With PlayStation Now on Samsung Smart TVs, users can play PlayStation 3 games simply by pairing their TVs with DUALSHOCK 4 controllers.
The popular dance game Just Dance Now, in partnership with Ubisoft, is also available globally on Samsung Smart TVs. Users will be able to play and dance in front of their TVs using the Samsung Smart Remote and Samsung mobile devices. The game supports multiple players.
Bingo HOME: Race to Earth is a gaming title for the new DreamWorks Animation movie HOME and features progressive bingo that includes casual, shared gaming on the TV and smart devices already found in the home. The technology is a new eco-system pioneered by Samsung and Yahoo for multi-screen interaction in the living room.
Samsung's own Milk Video curates the most popular video clips from websites to give users access to premium content from a list of almost 50 content creators. To help users discover even more fun content, Samsung's On TV feature helps users discover new content easily with recommendations.
Currently available Tizen products include a few smartwatches and cameras despite years of development and support by the world's top maker of smartphones and TVs.
The platform also represents Samsung's effort to free itself from Google's Android platform.
But Tizen has so far failed to take off, due in part to Samsung's failure to launch a smartphone powered by the system. Major role on a possible success for Tizen would play the app developers.
Samsung also hopes the operating system to play a key role in its smart-home business. Tizen can also run on devices with low computing power such as refrigerators and washing machines, offering a way for users to monitor and control such devices remotely.
Rival LG Electronics is offering new TVs that run on the WebOS software.