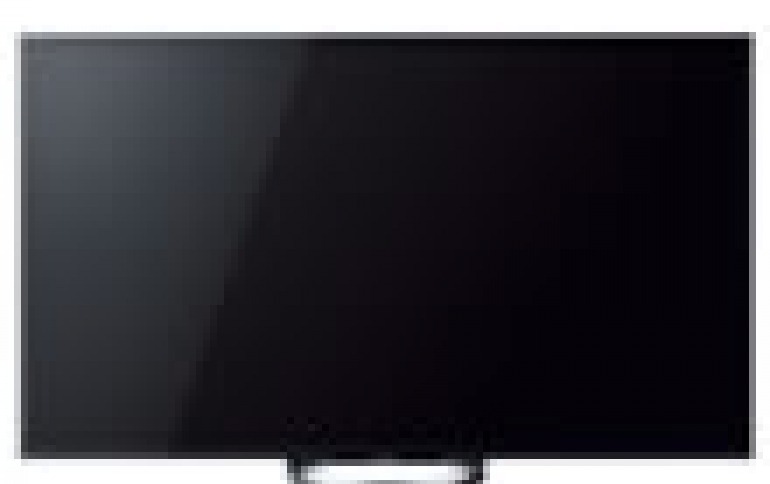 Samsung, LG And Panasonic Showcase Their UHD TVs At IFA
During the IFA trade show in Berlin, the Korean electronics giants Samsung and LG as well as Japanese Panasonic announceed their stratgies focusing on ultra high-definition (UHD) televisions and high-end organic light-emitting diode (OLED) TVs. Samsung and LG are the only two producers of curved OLED TVs, all with 55-inch screens. But high price tags of up to 15 million won ($13,500) keep customers from spending on the luxury product due to the extended economic slump.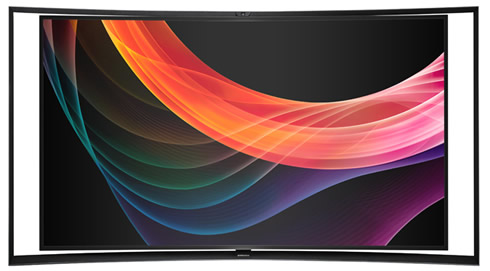 Samsung displayed a variety of UHD TV models measuring from 55 inches to 110 inches as it expects the UHD TV market will grow to a whopping 9.87 million in 2016 from an estimated 930,000 this year. It also won't give up the expensive OLED TVs though it remains a luxury niche for the company.
The Samsung UHD F9000 produces crisp detail, optimal color and contrast all complemented by Quadmatic Picture Engine, Samsung's picture processing technology. No matter the source of the content - SD, HD or Full HD ? the Quadmatic Picture Engine adapts the source image, eliminates visual noise, improves the detail and sharpness of the image before finally up-scaling the picture to be displayed in UHD.
In addition to shaper images, the F9000 and all of Samsung's UHD TVs offer high brightness, contrast with the deepest blacks, and real UHD resolution using proprietary algorithms.
The UHD F9000 incorporates a minimalist design with a narrow bezel, metal stand and metallic finish. The design deftly hides the built-in speakers and subwoofers for a 70W sound experience and the One Connect Box removes cable clutters by aggregating all connectors from multimedia players. The advanced craftsmanship continues on the inside as the TV has ability to upgrade its software features over time to offer more services including future UHD standards through its inbuilt Evolution Kit.
The Samsung Smart Hub is a simple five-panel layout that turns the start screen of the TV into an entertainment and social hub. Live TV is no longer at the center of the television experience. S Recommendation suggests shows and films to watch dependent on the user's tastes and watch history. Other features include a Twin Tuner, built-in camera, video chat capability and one-button content sharing with mobile devices.
Samsung claims that its 55-inch Curved OLED TV displays pictures with greater presence and depth than any flat-screen has ever been able to deliver. The TV screen appears as if it is floating above the metal frame.
Alongside the Smart Hub with S Recommendation, the Curved OLED TV continues to discover news possibilities with its Multi-View capability. Two people can watch two different channels at the same time on the same screen using Multi-View glasses that come with ear buds for stereo sound. This feature is so advanced that viewers can watch any combination of 2D and 3D content simultaneously.
Samsung also showed a prototype of the company's 4K OLED TV at the IFA electronics show. The company unveiled a mammoth new 98-inch S9 model.
The company said the technology "represents an unprecedented leap forward for picture quality and sharp contrast with its self-emitting pixels and natural motion."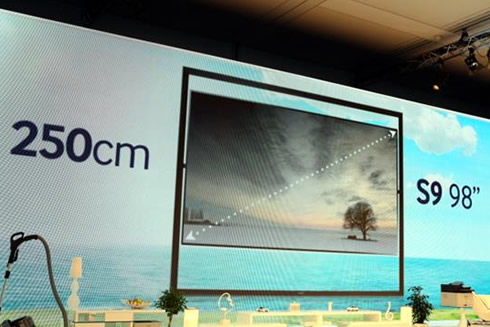 In the 4K flat-panel realm, Samsung debuted its new 98-inch UHD screen. Samsung has already showcased a 110-inch S9 TV unveiled at CES in January, but the 98-incher will presumably have a price between that top-end model and the smaller 85-inch alternative, the UN85S9.
Samsung also announced European pricing for two smaller UHD models, the 55-inch and 65-inch F9000 TVs, that cost 4,000 and 6,000 euros, respectively (that's about $5,270 and $7,912 in U.S. currency).
LG Electronics is showcasing its range of advanced TVs, which includes the CURVED OLED TV (Model 55EA9800), the GALLERY OLED TV (Model 55EA8800), an upgraded version of the 84-inch ULTRA HD TV (Model 84LA9800) and more affordable 55- and 65-inch ULTRA HD TVs (LA9650 Series).
First showcased at CES 2013 and already available in South Korea, US and Germany, LG's CURVED OLED TV features a IMAX-like curvature and LG's WRGB OLED technology to deliver infinite contrast ratio with deeper blacks and brighter whites than a conventional RGB display. Furthermore, the screen delivers high color accuracy regardless of ambient light or viewing angle.
The TV is 4.3mm (0.17 inches) thin and weighing just 17kg (37.48 pounds). The modern design of the 55EA9800 features the almost transparent Crystal Stand. LG?s forward-facing Clear Speakers are incorporated into the Crystal Stand and promise to deliver flawless audio in the mid- to high-frequency ranges.
Also on display at this year's IFA is the latest addition to LG's OLED TV series - the art inspired 55-inch GALLERY OLED TV. This first ever wall mountable OLED TV illustrates the company's ability to create differentiated home entertainment solutions.
The art frame seamlessly conceals a 2.2 channel speakers. Gallery Mode enables owners to enjoy high resolution digital images of iconic paintings and personal photos when the TV is not in use. As with all of LG?s OLED TVs, the 55EA8800 employs proprietary WRGB OLED picture technology.
Following the introduction of the world?s first 84-inch and premium 55- and 65-inch ULTRA HD TVs (LA9700 Series), LG is now unveiling at IFA 2013 more affordable 55- and 65-inch units (LA9650 Series) and an upgraded version of its 84-inch ULTRA HD TV (84LA9800) .
Both the LA9650 and LA9700 series feature a built-in HEVC (High Efficiency Video Coding) decoder, which can play Ultra HD content directly from a USB flash drive. Thanks to LG?s Tru-ULTRA HD Engine, these TVs can upscale any type of content to near UHD quality with a 178-degree viewing angle. The LA9700 series goes a step further with NANO FULL LED backlighting for improved contrast, brightness and color consistency.
What?s more, the LA9700 units are equipped with a 4.1 channel, 50W audio system with forward-facing Sliding Speaker while the LA9650 TVs come with speakers mounted on either side of the screen. The 84LA9800 boasts a 2.2 channel, 310W audio system with speakers on both sides.
Panasonic at IFA unveiled the Smart VIERA WT600, an Ultra HD TV with a 4K 60p input designed based on HDMI 2.0 and DisplayPort 1.2a specifications.
The 65-inch class (64.5 inches measured diagonally) Panasonic Smart VIERA WT600 Ultra HD TV will be available in mid-October.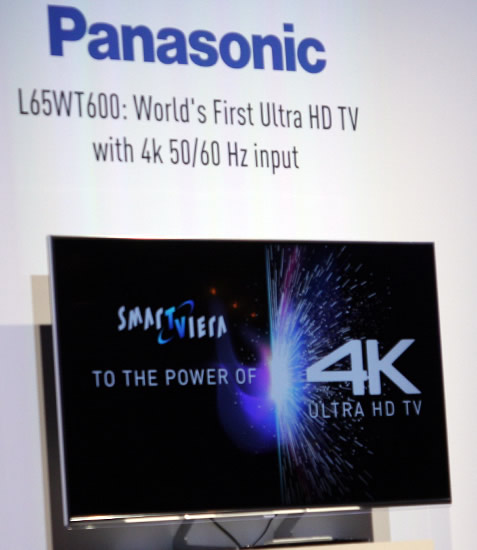 With its THX 4K certification, the Smart VIERA WT600 is tailored for home cinema enthusiasts. The WT600 panel's 2,400 Back Light Scanning (BLS) technology provides high motion sharpness, even in fast action scenes. The TV also features a minimalist design with a thin metal frame .
The next generation 4K 60p input, designed based on HDMI 2.0 and Display Port 1.2a specifications, helps assure compatibility with future 4K-players, set-top boxes and next-generation gaming consoles.
PC gaming enthusiasts can connect their PC to the WT600 via the 60p-capable DisplayPort, allowing them to enjoy the latest blockbuster games in incredible detail and with high motion clarity. he WT600?s built-in HTML5 web browser can also show Internet pages in 4K quality.
The WT600 has a built-in 4K H.264 (MPEG4) decoder, which not only enables the playback of 4K video files via USB and SD Memory Card, but - even more importantly ? enables the playback of 4K content directly from the Internet. Photo enthusiasts can access their photography either via an SD card with the 4K Photo Viewer SD, or use 4K Swipe & Share to wirelessly transfer photos from their mobile phone or tablet in Ultra HD resolution.
With 4K Intelligent Frame Creation, the WT600 achieves smooth panning of up to 120 frames per second, even with Ultra HD sources. Panasonic's 4K Ultra HD TV also analyzes complex scenes - with movement from a variety of directions - and optimizes each object independently.
The Local Dimming Pro enhances overall image by improving control of details in both darker and brighter areas. Meanwhile, the new 4K Fine Remaster Engine maximizes the image quality for content created with resolution lower than 4K. The circuit processing technology produces images with higher definition by interpolating the missing parts of the images and re-producing the non-existent data, bringing them to a level of quality that approaches 4K sources.
The Panasonic TV Remote 2 App also offers Smart Calibration, a function which enables the viewer to set detailed correction curves for gamma, white point, and color saturation on the TV via their Android or iOS7 Smartphone or tablet.
As with all Smart VIERA TVs, the WT600 features built-in Wi-Fi as a standard. Users can access multimedia content on their home network via DLNA streaming, as well as the Apps for the Smart VIERA platform with its continuously expanding range of Smart TV applications including social networking TV apps such as Facebook, Twitter and Skype. With the WT600?s automatic pop-up camera, video calls can be made with just the click of a few buttons.
Taiwanese Take Early Lead in UHD LCD-TV Panel Market
While both LG and Samsung are focusing in AMOLED panels for UHDTVs, Taiwanese suppliers Innolux Corp. and AU Optronics Corp. have taken a lead in the market for next-generation ultra-high definition liquid crystal display television (LCD-TV) panels, with a combined 78 percent share of shipments in the first half of the year, according to data released by IHS Inc.
Innolux held a 42.8 percent share of unit shipments, while AUO grabbed 35.6 percent, according to the data. In contrast, LG Display and Samsung Display Corp., which dominate the overall LCD and LCD-TV panel market, held a collective share of only 4 percent of UHD shipments.
"Most television brands are counting on UHD sets - with their astounding 3,840 by 2,160 resolution - to rejuvenate sales," said Sweta Dash, senior director, display research and strategy for IHS. "That's why the Taiwanese suppliers are focusing heavily on meeting early demand for UHD LCD panels. Meanwhile, South Korean suppliers LGD and Samsung have turned their attention to a different technology: the active matrix organic light emitting diode (AMOLED) panel, which they believe represents the next generation of television. This has allowed the Taiwanese to jump ahead in the early phase of the UHD LCD panel business."
UHD shipments are tiny at present, amounting to 568,000 units in the first half of the year, or less than 1 percent of the total LCD-TV panel market. However, the television business has high expectations for the technology.
TV panel makers are betting on a high rate of growth for UHD LCD TVs during the next four years. These companies expect to ship nearly 2.3 million UHD LCD panels this year, up from less than 33,000 units in 2012.
So far, the UHD market has underperformed the television industry's expectations, with slower-than-expected demand that has caused panel inventories to swell this year. However, the oversupply has led to sharp price decreases for panels and sets. This will make UHD sets more affordable and competitive during the holiday season.
Already, 55-inch UHD TVs are available from major brands such as Sony for prices ranging from $4,000 to $5,000. Meanwhile, cheaper, lower specification products from value brands at the 50-inch size have fallen to less than $1,500 in the Chinese market.
LG Display and Samsung have focused most of their energies on resolving problems with AMOLED technology, including higher costs and manufacturing and yield issues. These challenges have resulted in very low volume shipments for AMOLED televisions in the first half of this year.
A 55-inch curved OLED TV in full high-definition format now is selling around $14,000, well out of the price range for the mainstream market. This high cost is enough to persuade most panel suppliers and television brands to stay out of the AMOLED segment and instead focus on the UHD LCD-TV business.
However, LGD and Samsung have not been deterred and since July have begun expanding their UHD panel shipments, setting up a battle between the two technologies.