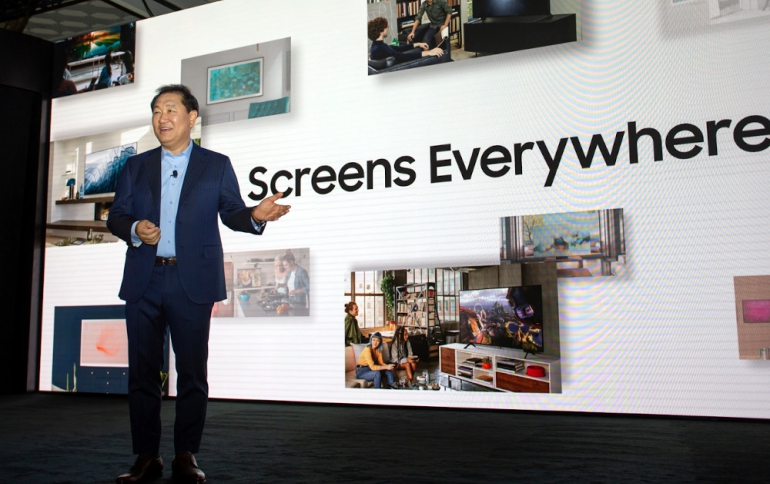 Samsung Debuts Expanded MicroLED, QLED 8K and Lifestyle TV Lineups at CES 2020
Samsung Electronics unveiled its latest lineup of MicroLED, QLED 8K and Lifestyle TVs ahead of CES 2020.
"Consumers use screens every day to work from home, exercise from home, and even shop from home. As our lifestyles continue to evolve, the TV screen is evolving with them to provide consumers access to their favorite content and real-time information whenever and wherever they want it," said Jong-hee Han, President of Visual Displays at Samsung Electronics. "As part of our vision of 'Screens Everywhere,' we're thrilled to deliver a more vivid and connected at-home viewing experience by incorporating AI-enabled features and 8K technology into our displays."
Samsung introduced the home-ready, modular MicroLED, which combines next-generation screen technology with customization capabilities.
With 75-, 88-, 93-, 110-, and 150-inch display sizes, MicroLED models are suited for a variety of homes and lifestyles. In particular, the new 88- and 150-inch MicroLED models introduce ultra-slim infinity designs, virtually removing all four sides of the bezels for a finish that blends right into any wall. And consumers can also connect multiple MicroLED panels together to create new combinations and adapt their TV for their specific space.
MicroLED displays deliver greater depth, better resolution, and higher clarity as well as a peak brightness of 5,000 nits. They also leverage upscaling abilities based on deep learning to deliver the highest-quality content, regardless of the source.
Bringing down the size of microLEDs to fit the home is "an engineering feat," the company said, as the display must retain the number of pixels while packing them into a smaller frame.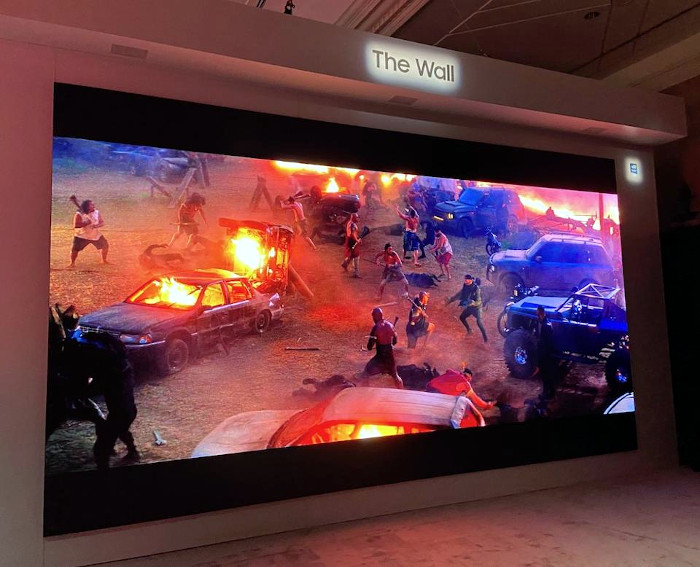 "We are ready in terms of production yields that are very close to mass production," Han said. "Samsung is also preparing for smaller sizes of microLED screens (smaller than 75 inches) with an aim to push hard in the new home entertainment market, even including small ones for monitors. There is no limit in size for microLEDs."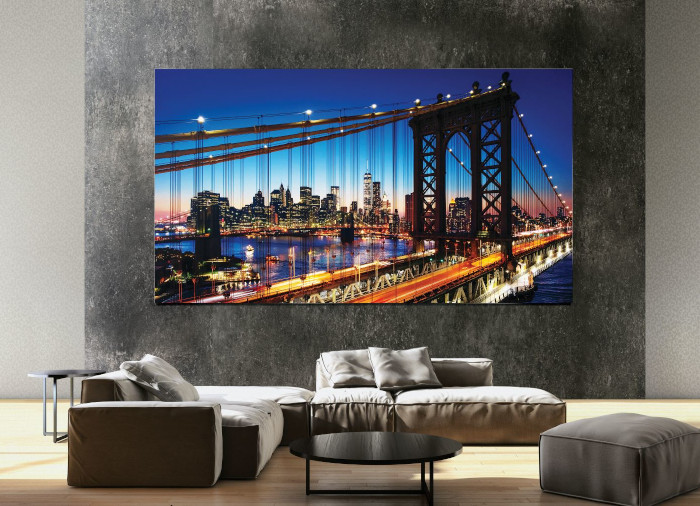 Samsung is also growing its portfolio of Lifestyle TVs with an expanded rollout of The Sero. The Sero, which means "vertical" in Korean, has the ability to pivot between horizontal and vertical orientations – just like a smartphone or tablet. Following its initial rollout in South Korea last year, Samsung is set to expand The Sero's availability to several global markets in 2020.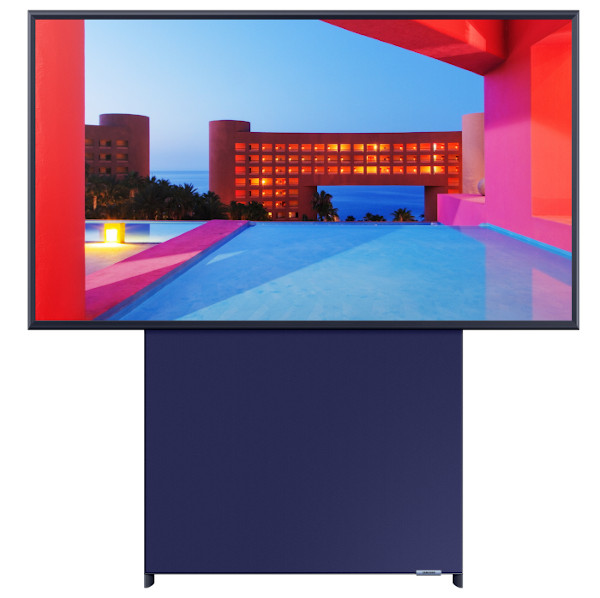 The Sero's display orientation technology connects with users' mobile devices to naturally display content in traditional horizontal formats, as well as vertical formats designed for mobile consumption.
Geared toward millennial and Gen Z consumers, The Sero features a modern design that stands out in any space, and includes a range of different display features that extend functionality when it is not in use.
2020 QLED 8K TV at CES
Samsung also introduced today its QLED 8K line at CES 2020 in Las Vegas.
The 2020 QLED 8K lineup leverages the power of machine learning to optimize audio, video and smart capabilities. And it offers a range of smart features powered by Tizen, so consumers can more easily interact with their home and mobile devices, and access new features like Samsung Health.
The flagship Q950TS QLED 8K TV, Samsung's first TV to combine 8K picture quality with impressive surround sound audio and an ultra-thin form factor.
Samsung practically eliminated the bezel around the display to create a screen-to-body ratio of nearly 99 percent, the highest in the industry. When consumers watch from the average viewing distance of ten to fifteen feet, the bezels disappear to create an Infinity Screen effect.
In addition, the Q950 is only 15 millimeters thin and features a completely flat black, which allows consumers to place the Q950 flush against the wall or display its striking silhouette on a media stand.
Every Samsung 8K TV shipping today meets the requirements of the 8K Association's Certified Test Specifications and carries the CTA 8K Ultra HD Display Definition logo.
This year, consumers will also be able to enjoy and stream AV1 codec videos filmed in 8K on QLED 8K TVs. All Samsung TVs in the 2020 8K line will ship with this capability built-in. And, Samsung is working with partners like YouTube to create pathways for streaming native 8K content.
Based on Samsung semiconductor technology, the Q950's next-generation Quantum Processor 8K features improved AI-based upscaling capabilities that use machine learning to analyze and identify the characteristics of individual pixels. It then restores different elements of the image to create a pristine 8K picture, regardless of the content source.
The Q950 also leverages the power of AI to ensure that nothing distracts viewers from their content. While other TV sensors can only adjust screen brightness based on the ambient light within the room, Adaptive Picture analyzes the brightness of the room, as well as the scene being played on the screen, to optimize brightness and maintain contrast in high-glare environments.
Another common issue for consumers streaming content is the speed of their internet connection. AI ScaleNet uses compression to significantly cut the amount of bandwidth needed to stream content. This helps consumers enjoy a higher quality image, and a smoother streaming experience, even if they have a slower internet connection. Samsung Electronics continues to work with Amazon on this feature, utilizing AI ScaleNet from standard definition to 4K in Prime Video.
The Q950 delivers some of the best TV audio on the market. It features speakers on every side of the display, as well as woofers in the back to deliver virtual 5.1 channel surround-sound.
If consumers are watching a movie that hasn't been mixed for three-dimensional sound, the audio won't track with the movement onscreen. Object Tracking Sound+ solves this problem by detecting the movement of objects on the screen and adjusting the audio accordingly.
With Active Voice Amplifier (AVA), the Q950 can enhance voice clarity in response to ambient noise like a blender or vacuum cleaner.
Finally, Q-Symphony creates a more dynamic soundscape by pairing the Q950's speaker with the audio of a Samsung Q series soundbar.
In 2020, Bixby, Samsung's AI assistant, is getting even smarter, through a new ability that leverages Ambient Mode to change the mood of a room. For example, if they tell Bixby to create a calm atmosphere, the TV will then display a relaxing backdrop on the screen.
In addition, Samsung will be integrating Amazon Alexa and the Google Assistant directly into its premium lineup of 2020 Samsung Smart TVs, including the Q950.
The Q950 features a new and improved Universal Guide that uses AI-based algorithms to analyze the type of content that consumers watch, as well as the services and TV channels that they tend to use, to offer recommendations customized to their specific habits and tastes.
Finally, through Samsung TV Plus, Samsung's free smart TV video service, consumers can easily access new content, even if they have cut the cord. With just an internet connection, consumers can instantly access news, sports, entertainment, and more—with new options joining all the time. There are currently nearly 100 channels on Samsung TV Plus, including CBSN (CBS's 24/7 live digital news channel), Yahoo Finance, Lively Place (from A&E Networks), Bon Appétit, VEVO, Outside TV+, and much more.
Reimagining Connected Living
With the launch of Samsung Health on TV later this year, consumers can enjoy a fitness and wellness solution that integrates into their hectic schedules. Consumers will be able to see their activities, track their progress, and pursue shared fitness goals with the entire family. Plus, they will have access to free and exclusive content from leading partners, including Calm, FitPlan, Jillian Michaels, Echelon, Obe Fitness, and Barre 3 and more.
Multi-View helps consumers to simultaneously enjoy content on their mobile devices and their TVs, by mirroring the phone screen onto the TV screen even while it is playing TV content. 14 different layouts ensure that consumers can customize their viewing experience, from side-by-side viewing to picture-in-picture viewing along with several other options.
Tap View allows consumers to mirror their phone screens just by touching their mobile device to the TV, creating an even more streamlined experience for playing content on the big screen.
Finally, Digital Butler brings together both your connected and non-connected devices in one dashboard. It uses infrared technology so that consumers can manage legacy devices near the TV in addition to their home's smart devices.