Samsung Debuts 800-Gigabyte Z-SSD for HPC Systems and AI Applications
Samsung Electronics has launched an 800GB solid state storage drive, the SZ985 Z-SSD, designed for advanced enterprise applications including supercomputing for AI analysis.
According to Samsung, the new single port, four-lane Z-SSD features Z-NAND chips that provide 10 times higher cell read performance than 3-bit V-NAND chips, along with 1.5GB LPDDR4 DRAM and a high performance controller. The 800GB Z-SSD features 1.7 times faster random read performance at 750K IOPS, and five times less write latency - at 16 microseconds, compared to an NVMe SSD PM963, which is based on 3-bit V-NAND chips. The Z-SSD also delivers a random write speed of up to 170K IOPS.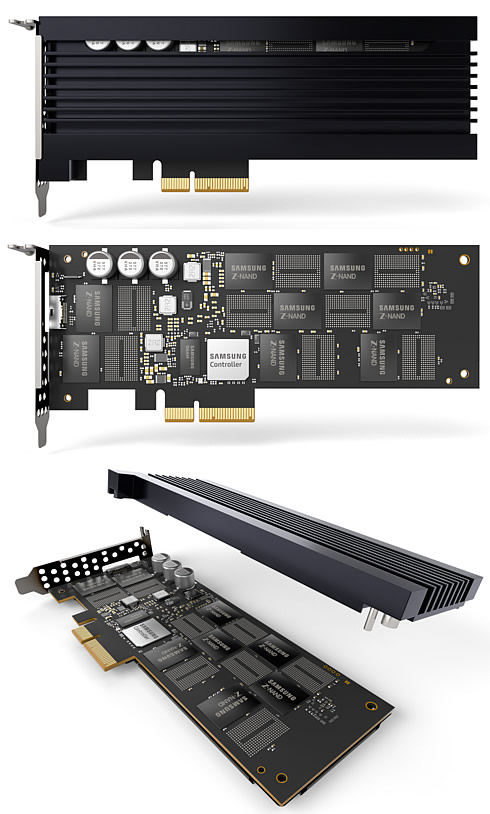 The 800GB Z-SSD guarantees up to 30 drive writes per day (DWPD) for five years, or a total of 42 petabytes. The reliability of the new Z-SSD is further underscored by a mean time between failures (MTBF) of two million hours.
Samsung will introduce its new Z-SSD in 800GB and 240GB versions, as well as related technologies at ISSCC 2018 (International Solid-State Circuits Conference), which will be held February 11-15 in San Francisco.
No pricing details were revealed.
Samsung's ambitious NAND Z-SSD will face the competition from Intel's P4800X Optane drive, which comes in 375GB and 750GB capacity points.
Jinman Han, SVP for memory product planning and application engineering at Samsung Electronics, said: "We will continue to develop next-generation Z-SSDs with higher density and greater product competitiveness, in order to lead the industry in accelerating growth of the premium SSD market."
This means that you may also see an MLC (2bits/cell) version of the current SLC (1bit/cell) Z-SSD technology.