Review: NVIDIA Geforce GTX 1080Ti
3. VRMark, Final Fantasy XIV
Futuremark's VRMark benchmark returns two tests - the "Orange Room" runs at 2,264 x 1,348 and the "Blue Room" tests the GPUs at 5,120 x 2,880.
In the Orange Room test, the GeForce GTX 1080 gave a slightly higher score than GeForce GTX 1080 Ti. The average frame rate in the Orange Room is about 220 fps for both GPUs, which is twice the test's standard frame rate of 109 fps.
How a weaker GPU scores better? Well, the CPU is becoming a bottleneck for the 1080Ti, as it happened at 3DMark's "Cloud Gate" test. In the Orange Room, which puts the GPUs under a ligher load, the performance of the CPU is insufficient cope with the higher frame rate as the GPU is running at full speed.
Meanwhile, in the Blue Room test, the GeForce GTX 1080 Ti scored about 36% higher than the GeForce GTX 1080. Even at the average frame rate, the 1080Ti is about 38% higher. However, the Blue Room test is extremely demanding (5K) - even the GeForce GTX 1080 Ti cannot reach the target frame rate of 109 fps.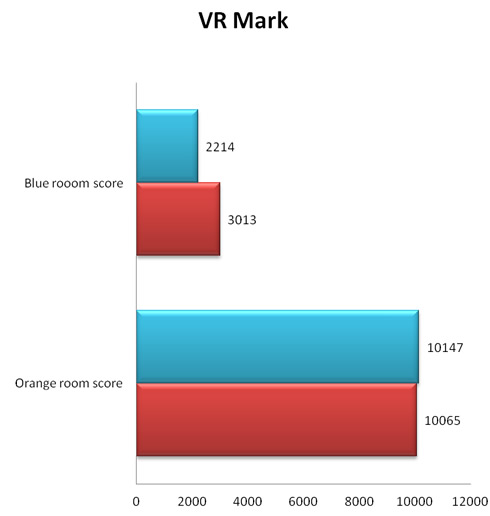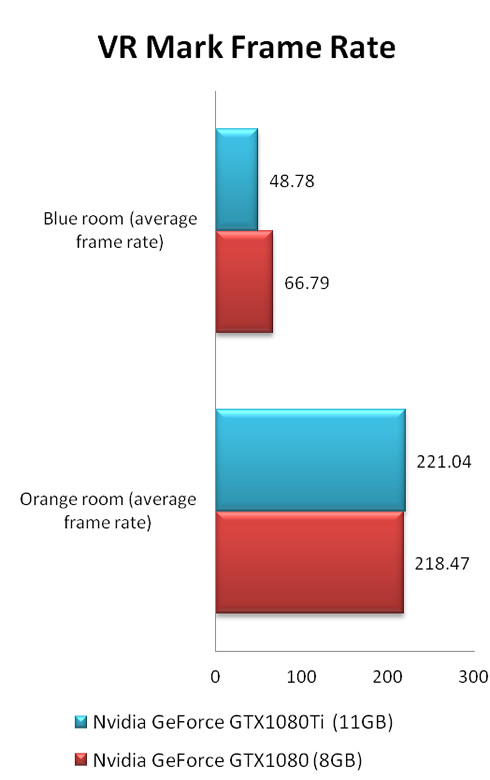 We are moving on to the more demanding Final Fantasy XIV and at heavier load for the GPUs. The benchmark was run at resolutions of was executed full HD, WQHD and 4K, with the graphics quality set to max and under DX11 mode.
The GTX 1080 Ti kept widening its performance lead over the GTX1080 GPU as we were moving to higher resolutions. As you can see, the 1080Ti's was about 6%, 21% and 30% in the full HD, WQHD and 4K tests, respectively.