Radeon Software Crimson ReLive Edition Brings Support For Chill, Along With New Features
The latest version of AMD's Radeon Software graphics software, the Radeon Software Crimson ReLive Edition, has been released, enabling high-performance gaming, VR experiences on VR-capable hardware along with new features for reliability and stability.
Since the Radeon Software Crimson Edition launch last year, AMD delivered 29 driver releases, including eight WHQL-certified drivers.
The new Radeon ReLive release focuses on features demanded by gamers.
Gamers can "relive" their gameplay by capturing, streaming, and sharing recorded gaming sessions. With minimal impact to gameplay, Radeon ReLive enables playback of ReLive recordings via an in-game toolbar, and offers quick customizable settings, custom scene layouts, and more. With Radeon ReLive, gamers now have a way to capture gaming highlights, and share their gaming exploits and conquests with online friends and competitors.
Another new feature tailored for gamers is Radeon Chill, a framerate controller for Radeon graphics that dynamically regulates framerate based on the speed of your mouse movements. Radeon Chill was designed to reduce system power consumption, enabling gameplay without noticeable impact to performance while helping maintain a cooler and quieter system.
Radeon Chill adapts the in-game frame rate to the action that is occurring onscreen. If the game action is mostly static or the game character is not moving, Radeon Chill quickly scales-down frame rates to save power. As soon as the game character resumes moving, Radeon Chill responds by increasing frame rates to preserve fluid gaming motion.
Enhanced AMD FreeSync technology enables communication between the display and the graphics card for smooth gameplay, with a borderless full-screen mode that enables switching between applications. FreeSync's gradual refresh-ramp enables a smooth increase or decrease in display frames per second.
In addition, the Radeon Software Crimson ReLive Edition is packed with features including Automatic Bad HDMI Cable and Signal Detection and Fallback, VP9 Decode Acceleration, DisplayPort HBR3 Support, Radeon Software Installer, and more.
Another first for this year is the Radeon Pro Software Crimson Relive Edition launching simultanously as part of our Radeon Software annual launch. Radeon Pro ReLive software enables capturing and recording professional workflows within CAD/engineering applications, visualization and prototyping software, content-creation tools for collaboration, presentation, training and customer support, and more. Free and integrated within Radeon Pro Settings, Radeon ReLive enables full control of its video capture parameters, including customizable recording quality at up to 4K resolution.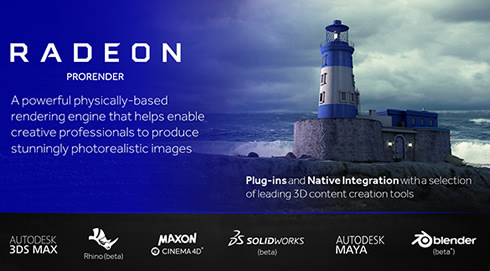 Radeon ProRender is a physically-based rendering engine that helps creative professionals produce photorealistic images, with planned upgrades in 2017 to include native application integration for Blender and Maxon's Cinema 4D.
Radeon Pro Software Crimson ReLive Edition also introduces features for empowering developers and dreamers with open-source tools. Radeon Loom software overcomes formidable technology challenges with the processing-intensive video stitching process that is vital to creating cinematic 360-degree video experiences in VR. Built upon the Khronos OpenVX computer vision framework as implemented by AMD, the Radeon Loom software stitches output from up to 24 cameras live in real-time and up to 31 cameras offline.
Supporting the AMD LiquidVR technology and Radeon VR Ready Creator graphics cards, Radeon Pro Software Crimson ReLive Edition works with professional applications supporting CAD and 3D model visualization in VR, virtual prototyping, and VR content-creation tools on VR-capable hardware.
There?s also good news for Linux users: AMD's support for open-source technologies and tools means Radeon Pro Software Crimson ReLive Edition now supports the AMD GPU-PRO hybrid Linux driver.
TressFX 4.0, a hair-rendering tool enables developers to create high-fidelity hair interactions in DirectX 12, and features new streamlined code that makes integration of high-quality hair designs easy. Depth of Field is a blurring tool that assists creators in developing high-quality focus and blur effects with low overhead processing by leveraging the power of asynchronous compute. Advanced Media Framework 1.4 (AMF 1.4) unifies video data and provides the GPU-accelerated foundation for many video and streaming applications.
Radeon Software Crimson ReLive Edition leverages AMD LiquidVR technology for realistic VR experiences on VR capable hardware. Asynchronous Space Warp for Oculus Rift improves on the Asynchronous Time Warp (ATW) feature, enabling VR to render at lower frame rates by extrapolating intermediate frames. TrueAudio Next enables lifelike acoustics and enhances sound perception, helping create echoes and reverberations within a setting. MultiRes rendering enables improved performance by reducing API overhead and reduced pixel-processing cost by matching the rendered image resolution to select VR HMD's optical system, and MultiView intelligent rendering algorithms enable single-pass rendering that can further reduce pixel-processing cost.
You can download Radeon Software Crimson ReLive Edition or Radeon Pro Software Crimson ReLive Edition today.