Qualcomm Releases 5G Chips for Vehicles, PCs and Home Broadband
Qualcomm on Monday announced 5G networking chips for a range of applications beyond smart phones, aiming to bolster a business that has lost Apple as a major customer and faces unprecedented levels of competition.
The world's biggest supplier of mobile phone chips has told investors it expects a big boost from 5G networks, which will start rolling out this year and feature higher speeds than current 4G networks. Qualcomm chips will supply the 5G connectivity in devices such as Samsung's Galaxy Fold smart phone.
But Qualcomm faces challenges in its mobile chip business, with Apple selecting Intel alone to connect its iPhones released last year to mobile data networks. And MediaTek, Samsung and Huawei Technologies have all announced plans to make 5G chips, with Samsung and Huawei both planning to use the chips in some models of their own phones, eating into potential business for Qualcomm.
At the Mobile World Congress event in Spain on Monday, Qualcomm announced its plans to get its 5G chips into other markets beyond phones.
Connected vehicle
Newly launched at the show is a portfolio of automotive wireless solutions for next-generation connected vehicles. They include Snapdragon automotive 4G and 5G platforms in addition to a new automotive Wi-Fi 6 chip, the QCA6696, designed to bring the next generation of Wi-Fi connectivity to the automotive industry.
With these new chips, Qualcomm is blanketing every aspect of connectivity required by future and present vehicles. They range from 4G/5G for drivers and passengers, in-car Wi-Fi and car OEM services, Cellular V2X (C-V2X) for car-to-car and car-to-infrastructure communication and precise positioning required for lane-level accuracy.
Included on the Snapdragon Automotive 5G Platform is dual SIM dual active (DSDA).
This will allow car OEMs offer in-car solutions powered by two SIMs — one for drivers and another for passengers. This means that 5G connectivity can remain active simultaneously but keep billing for the network services separate.
C-V2X
Qualcomm said that C-V2X comes for free as a part of Qualcomm's Snapdragon automotive 5G platform.
C-V2X supports direct V2V and direct V2I communications concurrently with 4G and 5G WWAN vehicle-to-network (V2N) connectivity.
Accurate positioning
The Snapdragon Automotive 4G and 5G Platforms support "concurrent multi-frequency, multi-constellation GNSS" including GPS, Galileo, Glonass, BDS and QZSS.
Qualcomm's navigation features also include support for dead reckoning, which "provides location data by combining a previous location with the present fix to determine one's position in challenging driving environments," according to Qualcomm.
Added to Qualcomm's Connected Car Reference Design, which consists of Snapdragon Automotive 4G or 5G, integrated RF front-end solutions, C-V2X and HP-GNSS support and apps processors, is Qualcomm's Vision Enhanced Precise Positioning (VEPP).
VEPP "fuses multiple automotive sensors — GNSS, a camera, an inertial measurement unit (IMU), and wheel sensors — to offer more accurate global positioning," according to Qualcomm. Qualcomm says that VEPP will prove to be "a very cost-effective solution for car OEMs" because it uses sensors already present in today's vehicles.
Qualcomm claims that VEPP testing achieved "lane-level accuracy — accurate to < 1 meter." In contrast, today's GNSS-based solutions can achieve similar results only in open-sky conditions and by incorporating IMU and wheel sensors, according to Qualcomm.
Qualcomm believes that all these positioning features will make lane-level navigation available for the mass market vehicles.
Wi-Fi connectivity for automotive
In addition to the Snapdragon Automotive 4G and 5G Platforms, Qualcomm is releasing the QCA6696 chip, its "most advanced Wi-Fi solution designed to meet consumer demands for fast, secure and efficient Wi-Fi connectivity."
The QCA6696 chip features dual Wi-Fi 6 multiple-input multiple output (MIMO) access points designed to support a Gigabit in-car hotspot and deliver efficient Wi-Fi, supporting ultra-high definition (ultra-HD) video streaming on multiple displays, screen mirroring from compatible devices and wireless back-up cameras, as well as Bluetooth 5.1 support and Qualcomm's Adaptive audio to deliver high fidelity voice and streaming audio support.
The QCA6696 chip also features full MIMO client capability designed to extend range at high data rates for connecting to external access points for services such as vehicle diagnostics, software updates and automatic check-ins when pulling up to dealerships.
The new Snapdragon Automotive 4G and 5G Platforms are scheduled for sampling later this year. They are planned for production vehicles in 2021. Automakers will also be able to access the new platforms through the 2nd generation Qualcomm Connected Car Reference Design anticipated to be available this year.
First Commercial 5G PC Platform
Qualcomm also announced today the PC industry's first commercial 5G PC Platform, the Qualcomm Snapdragon 8cx 5G compute platform.
Featuring the second-generation Qualcomm Snapdragon X55 5G modem, the Snapdragon 8cx 5G platform will help PC manufactures take advantage of the global rollout of 5G networks.
The new 7nm platform combines smartphone-like capabilities with the power and performance of a premium thin and light PC. Private 5G small-cell networks will be able to proliferate in the enterprise. This will allow for a more security-rich, high-performance data link for the next generation of connected applications and experiences for the modern connected worker. These applications and experiences include cloud storage and computing, highly responsive multiplayer gaming, immersive 360-degree video and instant apps.
Snapdragon 8cx 5G is currently sampling and is expected to be in commercial devices late 2019.
Lenovo representatives confirmed that the company will be building a new laptop using the Snapdragon 8cx and the X50 modem, enabling 5G connectivity.
Wi-Fi 6 and Bluetooth 5.1 Connectivity SoCs for Smartphones and PCs
Qualcomm also announced the Qualcomm QCA6390 Connectivity system-on-a-chip (SoC), the company's integrated offering that provides Wi-Fi and Bluetooth performance for mobile and computing devices.
The QCA6390 is the first announced 14nm integrated SoC to support the full feature suites of both Wi-Fi 6 and Bluetooth 5.1.
The QCA6390 is a full-featured, Wi-Fi 6 certifiable mobile SoC (based on the latest 802.11ax standard). Qualcomm Technologies' implementation of Wi-Fi 6 features in the QCA6390 deliver gigabit-class speeds that are approaching the 1.8 Gbps. It supports 1024 QAM ,
8-Stream sounding to take full advantage of the growing base of 8x8 MU-MIMO Wi-Fi 6 Access Points being commercially deployed.
In addition, WPA3 support goes far beyond baseline requirements, with all optional and mandatory elements of the latest Wi-Fi Security protocol, including WPA3-Personal, WPA3-Enterprise, WPA3-Enhanced Open and WPA3-Easy Connect supported.
Second Generation 5G RF Front-End Solutions for More 5G Multimode Mobile Devices
Qualcomm also announced its second-generation RF front-end (RFFE) solutions for 5G multi-mode mobile devices. The new products represent an RF solution designed to work with the new Qualcomm Snapdragon X55 5G modem, delivering a modem-to-antenna system for high-performance 5G mobile devices supporting both sub-6 GHz and millimeter wave (mmWave) bands.
The RFFE solutions include the Qualcomm QTM525 5G mmWave antenna module, which builds on the technology of Qualcomm Technologies' first mmWave antenna module but features a reduced height to support 5G smartphone designs sleeker than 8 millimeters thick. The new module adds support for band n258 (24.25 – 27.5 GHz) for North America, Europe and Australia on top of bands n257 (26.5 – 29.5 GHz), n260 (37 – 40 GHz) and n261 (27.5 – 28.35 GHz) already supported by its predecessors.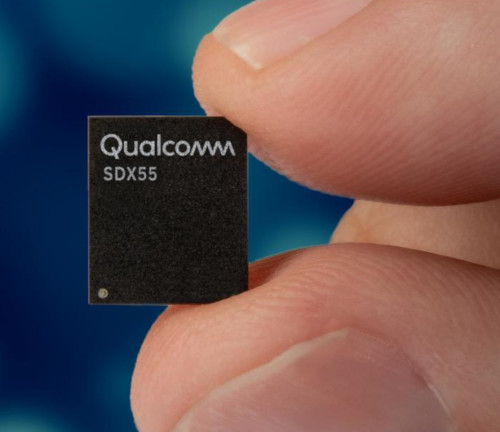 Qualcomm Technologies is also launching the first announced 5G 100MHz envelope tracking solution, QET6100, as well as a family of integrated 5G/4G power amplifier (PA) and diversity modules, and the QAT3555 5G adaptive antenna tuning solution.
The QET6100 extends envelope tracking technology to the wide 100 MHz uplink bandwidth and 256-QAM modulation needed for 5G NR, previously considered unattainable. This can achieve up to double the power efficiency compared to the alternative average power tracking technology, enabling faster devices with long battery life, as well as improvements in network coverage and capacity – key considerations for network operators.
These products are expected to sample to Qualcomm's customers in the first half of 2019 and be featured in commercial devices launching in late 2019.