5. CloneCD Reading Tests
PleXWriter PX-W482A IDE CDR-W- Page 5
CloneCD Reading Tests
- Procedure
We used CloneCD (v4.0.1.10) and 4 original CDs - Serious Sam 2 (SafeDisc 2), Desperados (LaserLock 2), V-Rally 2 Expert (SecuROM 2) and NBA Jam Extreme (PSX) - in order to test the reading times of the drive. We also tested the reading performance with backups of the original CDs, since the reading speed varies between original and backup media. The following pictures show the drive reading/writing capabilities as CloneCD reports:
- PSX Pressed Media
For this test we used the PSX game 'NBA Jam Extreme' and we ripped the image to the HD with CloneCD. The PX-W4824A needs 72secs to finish the task getting the second position, below ASUS 4816A.
- SafeDisc v.2 Results
The PX-W4824A gets the third position, below the Yamaha and ASUS drives.
- LaserLock v.2 Results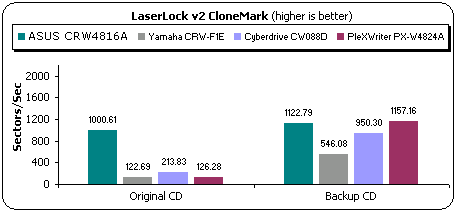 With the pressed disc, the PX-W4824A needs 45mins. The performance with the backup disc is much higher.
- SecuROM v.2 Results
All drives can read SubChannel data from Data/Audio tracks. The PX-W4824A has improved the reading speed of Subchannel data, compared with the previous PX-W4012A series, but still cannot reach the top.