9. RW/Packet Writing Tests
PleXWriter PX-W4824A IDE CDR-W - Page 10
RW Writing Tests
- Introduction
The PX-W4824A is the second drive, after Yamaha F1 series, which supports 24X writing with the use of the new Ultra speed re-writing media. Below are displayed all three available re-writing standards (there is a new logo for US-RW enabled drives):
Normal speed (NS-RW) can rewrite up to 4X
High Speed (HS-RW) can rewrite between 4X and 10X (or with some drives up to 12X/16X)
Ultra Speed (US-RW) can rewrite between 8X and 32X (PX-W4824A supports only 24X writing with such media)

With US-RW media, the PX-W4824A can write at 24X (P-CAV), while with HS-RW at 10X (CLV). Compared with the PX-W4012A we see a difference, since now 12X re-writing is not supported under the HS-RW format. With US-RW media, the PX-W4824A drive starts writing at 21.46X and reaches 24.00X at 6mins. The average theoretical re-writing speed is 23.91X, almost 24X CLV ;-)
- Test Results
Let's now compare the drive with the competition. The YAMAHA CRW-F1E (OWSC On) was faster than PX-W4824A (PoweRec On) by 3secs. Of course if user decides to disable the PoweRec function, the PX-W4824A takes the first place. The rest two drives from ASUS and CyberDrive cannot compete since they support the 16X re-writing speed.
Using Nero, we saw two different performances, with PoweRec enabled/disabled.
or with PoweRec disabled: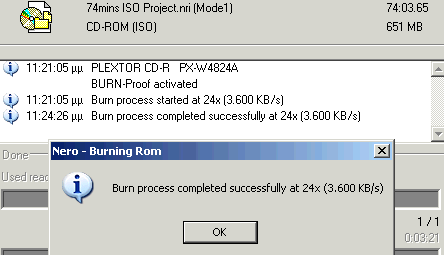 The PoweRec function does affect the re-writing speed of the drive. When was enabled, the drive finished at 3:44mins, while when was disabled at 3:21mins. That's a full 23secs difference!!
Important: We had burned two Mitsubishi Chemicals 24X US-RW certified media with the YAMAHA CRW-F1E drive. While the PX-W4824A could read them perfectly, it couldn't either erase them (quick, full) or even write upon them. In all cases we had "Power Calibration Errors" displayed with Nero software.
- Packet Writing Tests
- Introduction
We used Ahead InCD v3.37.1 for the packet writing tests with the 24X US-RW media.
The formatted disc had 534 MB of free space. We copied a 403 MB file (403.147 kbs) from a Hard Disk (on the same PC as the writers) to the formatted RW media using Windows Explorer (we dragged and dropped) and we completed the test twice to eliminate any possible time measurement faults and user errors
- Test Results
The PX-4824A gets the second place at the writing/reading tests behind YAMAHA CRW-F1E drive (recording) and CyberDrive CW088D (in the reading test). With 4-10X HS-RW media, the drive had a 7.43X average writing and a 17.35X average reading speed.