PleXWriter PX-W1210A CD-RW
8. CDR-W Tests
PleXWriter PX-W1210A IDE CDR-W - Page 8
CDR-W Tests
We almost forgot it! The PleXWriter PX-W1210A is the first CDR-W drive that supports the new HighSpeed RW recording standard. What does this mean? Simply...10x RW recording speed! The HS RW recording can be done only with HS RW media. The PX-W1210A retail package includes such media (manufactured from Ricoh). The possible re-write speeds are 4x, 8x and 10x. Of course the PX-W1210A can write the normal 4x RW media at only 4x write speed. Notice that some older cd-drives (mostly those that reads up to 16x) cannot read HS RW media! No official compatibility list exists yet, so for now it's going to be a "trial & error" case.
We tried the HS RW media in both PX-W124TS and CRD-BP2, and both drives refused to write the media (error message: write protected!). The HS RW media can be read by most current drives without any problem. However there are cases in which it will be needed a firmware update for reading HS RW media. Yamaha has already released such firmware updates for their CDR-W drives.
We used Nero 5.0.1.3 for writing CDs in 10x RW writing speed. However the first time we couldn't use the 10x RW writing speed since Nero stopped working. After contacting Ahead we found out that the installed HotBurn ASPI layer caused the problems, and after removing it all were back to normal. We faced some problems with 1.00 firmware but with those seems to be gone with the latest 1.02 firmware update..The HS RW writing seems very attractive. We think it will be the breakpoint for RW media, now it's not only reliable & cheap backup solution, but also FAST! Below are some results from various RW writing speeds:
| | | |
| --- | --- | --- |
| Burning Speed | Total time (including lead-in and lead-out) | CPU usage |
| 10x | 8:20min | 13% |
| 8x | 10:05min | 8.5% |
| 4x | 19:40min | 4.60% |
What about erasing time?
The new PleXWriter supposed to erase HS RW media in one (1) min for quick and in eight (8) minutes for the full erase mode. Below are the erase times that the PlexTools 1.05 reported:
Writing speeds

10x

8x

4x

Quick Erase

1:25 min

0:40 min

0:59 min

Full Erase

9:14 min

8.44 min

19:47 min
We mailed Plextor asking for their comment about those results. They insisted that something was wrong in our PC (possible software conflict) since the quick erase time for them took only 45sec. We tried the very same tests again, this time on a different PC without any installed CDR Software (except PacketCD). We used the PlexTools and Padus DJ 2.00.419 to measure the erase time. All tests were done using the exact same content in all the times we repeated the test:
Writing speeds

10x

8x

4x

Plextools

Padus DJ

Plextools

Padus DJ

Plextools

Padus DJ

Quick Erase

1:21 min

1:00 min

0:35 min

0:55 min

0:45 min

1:33 min

Full Erase

8:25 min

8:54 min

8:18 min

9:04 min

8:08 min

8:12 min
Those results also shown several differences in the erase time of the same HS RW media written at various speeds...
What about HS Packet Writing?
The HS RW recording standard supports packet writing at high speeds (4x-10x). For that purpose the PX-W1210A comes with PacketCD v3.00.209 from Cequadrat, that supports this feature. Even though we don't appreciate packet writing very much, we decided to install PacketCD in the existing WinME setup (despite the bad experience we had during previous attempts). Thankfully, things went ok this time and we had WinOnCD, PacketCD, Nero, CloneCD and Feurio working all together just fine (well, almost). Feurio however detected the installation of WinOnCD and prompted an warning message saying that if a malfunction occurs we should erase the WinOnCD VXD drives that are located in the /Windows/System/IOBUSYS directory.
We also faced another problem after installing the WinOnCD and PacketCD software. Both programs couldn't find any SCSI card. A quick search in CeQuadrat drivers page gave us positive results. After downloading the latest driver package for PX-W1210A model and rebooted, both program started working ok.
We noticed that a new tab were added in the drive's properties which supposed to leave you select reading and writing speeds for PacketCD formatted CDs. However the 10x writing selection was not selectable for the PX-W1210A. You can only choose 4x, 8x and the device default settings (possibly this option activates the 10x write speed?). But this could be bug, since when using normal 4x RW media for the PX-W124TS it displayed only 1x,2x available selections. The strange thing was that Sanyo CRD-BP2 (using 4x RW media) the 8x write setting is selectable! (which of course is not possible). As for the reading speeds selection you can choose from from 1x,4x,8x,12x,24x and default.
When we inserted the HS RW media, PacketCD popped and asked: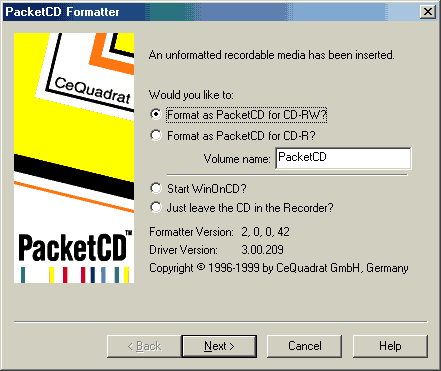 We replied yes and the formatting of the HS RW media started. It was completed in about 20:46minutes. We also formatted a normal 4x RW media and it took 32:27mins to complete. Notice that you if you do a full erase the PacketCD format is lost and you can use it as normal RW media.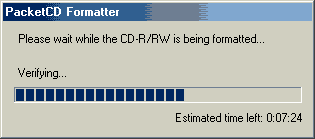 After the PacketCD format we had a CD with only 530mbs left (due to PacketCD format) and we started the tests. We copied a file-sized 330mbs (337.256kbs) from one CD-ROM to the PacketCD formatted RW media using explorer drag and drop move.We used 2 RW media. One was the HS RW and the other one a standard 4x RW media in order to see the differences in the reading/writing speed. The properties for the PX-W1210A were left at default (possibly 10x RW write speed?) for HS RW media and 4x write for the normal RW media:
File Size: 337256 kbs

Time

CPU Usage

Average Writing Speed

HS (4x-10x) media

277 secs

12%

6.92x

4x media

697 secs

3.5%

2.75x
Next I tried to copy the same file to the HD using Explorer drag and drop method. This was completed in 380sec (average reading speed 5.04x) for both media types. As you can also see the reading speed is far from perfect and is the same for the HS and normal RW media. Finally, erasing files from PacketCD formatted media took only a couple of seconds to complete.
Verdict of CDR-W Results:
The HS RW writing mode works great with the proper HS RW media. All our tests completed ok and the produced CD is readable from the most current CD-Rom and CDR-W drives. Notice that you might have some problem with older CD-Rom..The erase time seems varies from the writing speed and didn't was exactly what the PlexTools claimed off (1minute for quick and 8 minutes for full erase mode).
HS RW format also supports packet writing. People that use PacketCD for their daily backup purposes will be happy, since with the new HS RW media they can now write with 6.92x (average) speed instead of the old 2.75x! That's about 2.5x times faster than the previous format! However the reading speed when using PacketCD formatted discs is not so great as it reaches 5.02x.