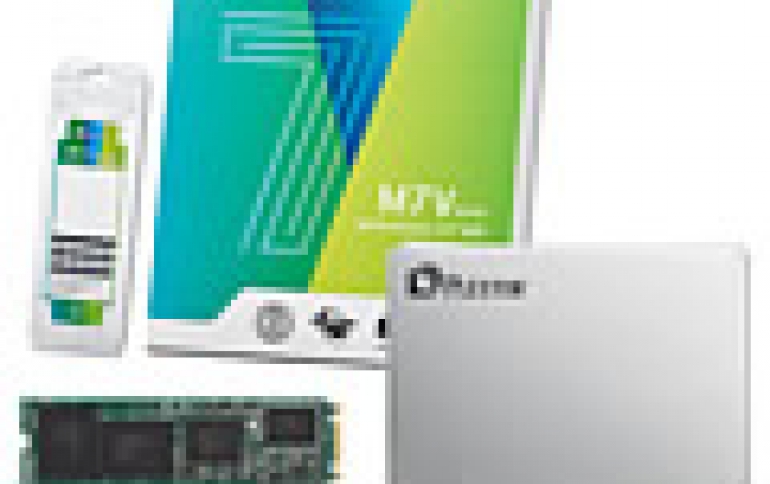 Plextor M7V Series Launches With TLC NAND And Increased Durability
Plextor announced the M7V series solid-state drive, the company's first TLC SSD product that surpasses the current TLC SSD's key technical limits, reaching a P/E cycle of up to 2,000 times. Plextor says it has managed to increase the Plextor M7V's lifetime as a TLC SDD through coupling the high grade components with its own firmware.
The M7V series applies the new generation Marvell control chip (Marvell 88SS1074B1), designed exclusively for TLC products, along with Toshiba's latest 15 nm process TLC NAND flash memory. It also applies multiple technologies developed exclusively by Plextor, including the tailor-made write acceleration technology PlexNitro, the Low Density Parity Check (LDPC) troubleshooting technology with three times the average rate, and PlexTurbo, a software that applies system memory to decrease the amount of reading and writing.
The result brings about the 2,000 times P/E cycle lifetime of the M7V series, 2 to 4 times as durable as a normal TLC SSD, providing the largest TBW (Total Bytes Written) for its users. Using the 512GB capacity version as an example, it has a TBW of 320TB.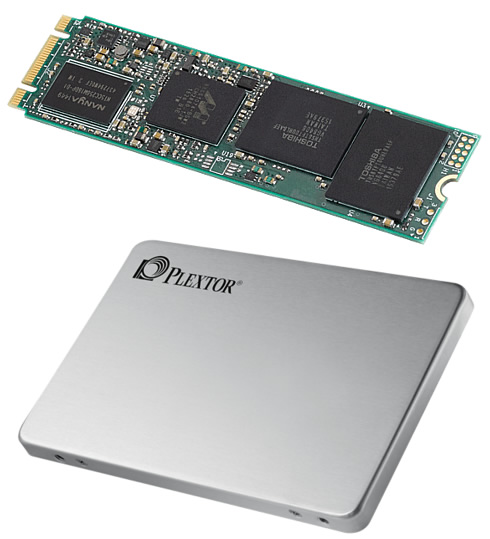 The PlexTurbo software can apply the system's DRAM to accelerate the SSD's read and write efficiency, allowing the M7V that has a designed sequential read/write speed of 560/530 MB/s, random read/write speed of 98K/84K IOPS.
Apart from PlexTurbo, the M7V series can also use two other additional softwares, the PlexCompressor & PlexVault - PlexCompressor can compress files that have a low usage rate while not affecting the SSD's efficiency; PlexVault can set up an exclusive space for sensitive information by tapping on a few hot keys, providing privacy and security to the data.
The Plextor M7V Series Solid-State Drives is available in two standard specs - the 2.5 inch (PX-M7VC) and the M.2 2280 (PX-M7VG), with 128GB, 256GB and 512GB capacities.
 

M7 M.2 2280

M7V

Capacities
128GB
256GB
512GB
128GB
256GB
512GB
Sequential Read Speed
Up to 560 MB/s

Up to 560 MB/s

Up to 560 MB/s

Up to 560 MB/s

Sequential Write Speed
Up to 500 MB/s

Up to 530 MB/s

Up to 500 MB/s

Up to 530 MB/s

Random Read Speed
Up to 97,000

Up to 98,000

Up to 97,000

Up to 98,000

Random Write Speed
Up to 51,000

Up to 84,000

Up to 51,000

Up to 84,000

Physical

Controller

Marvell 88SS1074B1

NAND Flash

TOSHIBA 15nm TLC with Toggle mode

DRAM Cache

256MB DDR3

512MB DDR3

1GB DDR3

256MB DDR3

512MB DDR3

768MB DDR3

Form Factor

M.2 2280

2.5 inch

Interface
M.2 SATA 6Gb/s
SATA 6Gb/s, compatible with SATA 3Gb/s and 1.5 Gb/s
Power Connector
M.2 connector for DC 3.3V input
15-pin SATA connector for DC 5V input
Data Connector
M.2 connector
7-pin SATA connector
Dimension (L x W x H)
80 x 22 x 3.65 mm / 3.15 x 0.87 x 0.15 inch
100 x 69.85 x 6.8 mm / 3.94 x 2.75 x 0.27 inch
Weight
10g / 0.35oz (Max.)
60g / 2.12oz (Max.)

Environment and Reliability

DC Requirement
3.3V / 2.0A (Max.)
Temperature
0°C ~ 70°C / 32°F ~ 158°F (Operating)
Shock
1500G (Max.), at 1 msec half-sine
Vibration
7 ~ 800Hz, 2.17Grms (Operation)
MTBF
1,500,000 hours
Endurance (TBW)
80
Warranty
3-Year

Compatibility

Operating System Supported
Microsoft Windows OS / Linux OS
Microsoft Windows OS / Linux OS / APPLE Mac OS
Agency Approval
UL, TUV, FCC, CE, BSMI, VCCI, RCM, KCC, EAC, ROHS, WHQL
Command Set Support
TRIM, S.M.A.R.T., NCQ, ATA/ATAPI-8
Firmware Upgrade
Supported

Features

Features
PlexTurbo, PlexCompressor, PlexVault, PlexNitro, LDPC