10. HS-RW Writing Tests
Philips JackRabbit32 CD-RW/DVD drive - Page 8
HS-RW Writing Tests
We used Nero Burning Rom for writing CDs in the maximum RW speed supported by the Philips JR32RWDV. The drive supports 10x maximum rewriting speed.
It finished writing in 8:02 minutes, and needed 28 seconds to perform the "quick erase" task with Nero. The INcoder drive is slightly faster by 6 seconds.
- Packet Writing Tests
We used InCD and Ricoh HS-RW media for all Packet Writing tests. The formatting of the media takes around 10min. The formatted disc had 530mbs of free space. We copied a 403 MB file (403.147 kbs) from a Hard Disk (attached on the same PC as the writer) to the formatted RW media, using windows explorer (we dragged and dropped). We carried out the test twice to eliminate possible time measurement faults and user errors: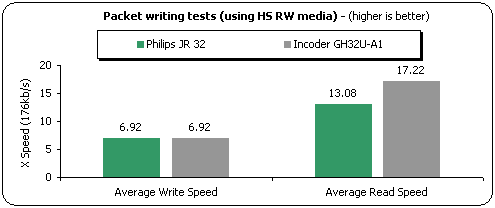 In the writing part, both drives gave the same result (6.92x), which is reasonable for 10x rewriting. In the reading part the Philips drive is slower than INcoder GH32U-A1, although the second drive exhibited lower CD-RW reading in the transfer rate tests.
- Mt. Rainier Tests
For testing the Mt. Rainier performance, we used InCD from Ahead Software. After the format process, we started the recording process (drag & drop). When the drive finished, we started the reading process back to the HD.
| | | |
| --- | --- | --- |
| Drive | Average Writing Speed (X) | Average Reading Speed (X) |
| Philips JR32RWDV | 4.98x | 6.71x |