Palm webOS and Dell Aero Smartphones to be Available From AT&T
AT&T?s customers will soon have the the chance to choose among Palm's mobile phones and Dell's Aero Android model, Palm said on Monday. Palm today announced that the Palm Pre Plus and Palm Pixi Plus phones will be available on AT&T?s 3G network for $149.99 and $49.99, respectively, with a two-year service agreement and after a $100 mail-in rebate.
Pre Plus and Pixi Plus will be featured in Palm's booth (No. 7053) at CTIA Wireless, which runs March 23-25 in Las Vegas.
With a slider keyboard, a larger touchscreen and a high-performance processor, Pre Plus is Palm's full-featured Palm webOS phone. The keyboard's gesture area provides a sleek look and intuitive navigation. Users also get 16GB of storage (~15GB user available) for applications and media. Pre Plus comes with the Palm Touchstone Back Cover, so it's compatible out of the box with the inductive Touchstone Charging Dock (sold separately).
As Palm's thinnest phone to date, Pixi Plus fits easily in your hand or pocket and offers a many features, including Wi-Fi. it comes equipped with a full QWERTY keyboard and it will be available in the original black as well as a new blue exclusive to AT&T.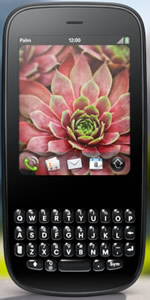 Pre Plus and Pixi Plus showcase the features of Palm webOS, including the ability to run multiple applications simultaneously and move between them; the Palm Synergy, which brings customers' information from the many places it resides into a single view; unobtrusive notifications; and universal search. Palm webOS also has a unique model of over-the-air software updates that delivers new features and performance improvements directly to a user's phone. Past updates have included support for 3D games and video recording.
A significant advantage of Palm webOS applications is that they can be integrated into the core webOS functionalities, such as linked contacts, layered calendars, notifications and GPS, providing a catalog of offerings for Palm webOS users. The Palm App Catalog insluded Pandora, Fandango, and 3D games like "Need for Speed Undercover" and "Guitar Hero".
Pre Plus and Pixi Plus also support a variety of AT&T services, including AT&T Navigator for audible turn-by-turn navigation (subscription required), AT&T Address Book to synchronize online contacts to your phone, and YPMobile to quickly find local businesses. They also include the following features and specifications:
- Palm Synergy, a key feature of Palm webOS that brings your information from all the places it resides - including Outlook, Google, Facebook, Yahoo! and LinkedIn - into one logical view
- The ability to run multiple applications simultaneously and easily move between them
- Unobtrusive notifications
- Universal search
- Over-the-air software updates delivered directly to a user's phone
- High-quality applications from the Palm App Catalog
- High-speed connectivity
- Gesture area, which enables simple, gestures for navigation
- Full QWERTY keyboard
- High-performance, desktop-class web browser
- Wi-Fi 802.11 b/g
- Integrated GPS
- Messaging support (combining IM, SMS and MMS capabilities)
- Multimedia options, including music, photos, video recording and playback, a camera with LED flash and a standard 3.5mm headset jack
- Email, including EAS (for access to corporate Microsoft Exchange servers) and personal email support (Google Gmail push, Yahoo!, POP3, IMAP)
- Bluetooth 2.1 + EDR with A2DP stereo Bluetooth support
- USB mass storage mode
- Charger/microUSB connector with USB 2.0 Hi-Speed
- Proximity sensor, which automatically disables the touchscreen and turns off the display whenever you put the phone up to your ear
- Light sensor, which reduces power usage by dimming the display if the ambient light is dark
- Accelerometer, which automatically orients web pages and photos to your perspective
- Ringer switch, which easily silences the device with one touch
- Removable, rechargeable battery
- Band/modes:
UMTS bands/HSDPA 3.6: 850/1900
Quad band GSM/EDGE: 850/900/1800/1900
GSM/GPRS/EDGE Class 10
Palm Pre Plus and Palm Pixi Plus will be available in AT&T stores and online at www.wireless.att.com in the coming months for $149.99 and $49.99, respectively, with a two-year service agreement and after a $100 mail-in rebate.
In related news, AT&T also said today that it also will soon unveil Dell's first smartphone available in the United States, the Aero. The Aero is based on Google's Android mobile operating system, it is equipped with a 5 MP camera for easy uploading to Flickr, Facebook, Picassa, YouTube and TwitPic. It comes with a 3.5" nHD display and supports Flash Lite for streaming audio and video content. navigation is also easy using the onboard GPS system while talking hands-free.