9. Writing Quality - 3T Jitter Tests
Optorite DD1205 Dual DVD±RW Recorder - Page 9
3T Jitter Tests
In the following page you can see the 3T Pit & Land Jitter graphs using various media burned at 40X CAV writing speed.
- 3T Pit results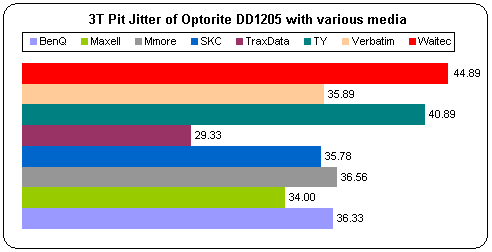 - 3T Land results
As it can been seen from the graphs above, the drive's CD writng quality is mixed, with some media being good (acceptable) while with others (Waitec, Taiyo Yuden and Benq) it needs improvement. The best choice with this drive is Traxdata media which had the lowest Jitter levels.
In the following page we check the C1 and C2 error rates of the same discs, to come up with more specific conclusions regarding quality.