OPPO Watch Makes Its Debut with Built-in Cellular and Flexible Display
Today in China, OPPO introduced OPPO Watch, the brand's first smart watch series, following the announcement of its flagship Find X2 series.
The Oppo Watch, which may remind you of the Appple Watch, is an Android-powered wearable that runs on Qualcomm's Snapdragon Wear 2500 chipset, and comes with 1GB of RAM and 8GB of storage.
The 46mm version of OPPO Watch uses a 3D flexible hyperboloid display – an industry first for a smart watch. The entire series incorporates OPPO's own Dual-Chip Endurance System and Watch VOOC Flash Charging technology, which reportedly improve battery life and shorten charging time. Built-in cellular connectivity and health & fitness tracking round out the features of the series.
OPPO Watch's flexible hyperboloid display is a design typically reserved for smartphones. The 46mm version features a 1.91-inch AMOLED screen with a 72.76% screen-to-body ratio, 402x476 resolution, and 326ppi density for extra detail. An "ultra-frameless" design makes the most of every millimeter of space, packing in more information.
OPPO Watch owes its slim profile to this AMOLED screen, combined with a 4.5mm aluminum frame and 3D curved glass crystal. The back of the watch uses an integrated 3D ceramic design and sensors designed to maximize contact with the skin without exerting pressure. Each watch comes with a band made of either Italian calfskin or fluoro rubber and available in a variety of colors to suit different occasions, from meetings to workouts. The band can be easily removed by pushing a single button.
The launch event also revealed another new feature: eSIM-based cellular connectivity, which helps users stay connected in a smarter and more efficient way without restriction. OPPO Watch can share a phone number with a smartphone or have its own number, either of which can be used for voice calls and Internet access. This feature brings smartphone-level convenience to the smart watch realm.
OPPO Watch can also be used for listening to music and making payments. An internal app store offers a variety of third-party apps for social networking, travel, entertainment, and more. In addition, the watch's style-matching AI watch face can generate a wallpaper that matches a photo of the user's outfit, inventing a stylish new look every day.
OPPO Watch provides a health monitoring system and various fitness tracking functions through which OPPO hopes to make exercise easier for its users. The watch contains 5 exercise sensors, can monitor a range of exercise scenarios, and is water resistant to 50 meters, making it easier to incorporate exercise into any lifestyle.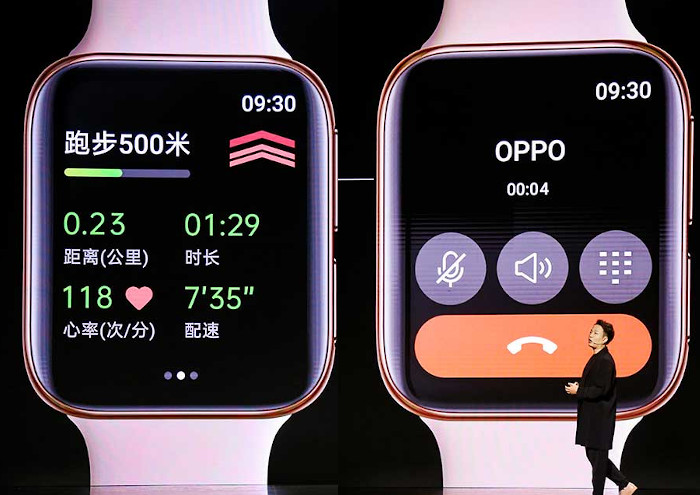 Beyond exercise features, OPPO Watch can monitor sleep quality, generating a sleep report of the user's duration of deep sleep, light sleep, and awake time. Additionally, the watch can constantly monitor heart rate, and generate a chart showing heart rate over the past 24 hours. Other functions such as activity and breathing reminders and monthly cycle monitoring for female users are also available.
OPPO smartphone users can quick-pair their phone's health app with OPPO Watch to access additional health & fitness services. Users of other Android smartphones can access the same services by downloading the HeyTap Health app.
For users who often find themselves feeling low-battery anxiety, OPPO Watch has its own Dual-Chip Endurance System that switches between a Snapdragon chip and an Apollo chip depending on power usage mode. In Smart Mode, the watch reportedly has a 40-hour use time on one charge. In Power Saver Mode, only basic functions such as notifications are enabled, and use time reportedly reaches 21 days on one charge.
OPPO has also developed its own all-new Watch VOOC Flash Charging technology, which uses the same battery system as OPPO smartphones. A full charge takes 75 minutes, and 15 minutes of charging time reportedly yields a 46% charge, which corresponds to approximately 18 hours of use time – enough for an entire day of use.

OPPO Watch Series will be available globally, and will hit the shelves in mainland China from March 24 starting for 1,499 yuan (~$215) for the 46mm version. The smaller 41mm version will cost 1,499 yuan or about $220, and it comes in black, white or pink. And then you have the premium 46mm stainless steel edition with sapphire crystal, and this is asking for 2,499 yuan or about $360. The watch will soon come in versions tailored to other markets.